Twitter Investor Alwaleed Says Dorsey Will Bring Continuity
Meenal Vamburkar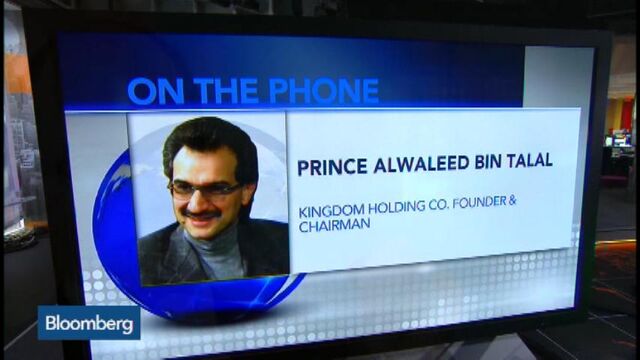 Saudi Arabian prince and Twitter Inc. investor Alwaleed bin Talal endorsed co-founder Jack Dorsey's return to the social-media company as interim chief executive officer.
While noting the choice for a new CEO should be left to the board of directors, he said Dorsey brings an "element of continuity." Dorsey, who sent the company's first-ever tweet in 2006, has returned to Twitter before. He came back in 2011 and 2012 to help oversee product development before leaving to focus on digital-payments company Square Inc., which he co-founded and where he will remain CEO.
"Twitter's good days are yet to come," Alwaleed said in an interview on Bloomberg Television Friday.
The company should remain independent and public until it further proves itself, he said.
Twitter announced on Thursday that Dick Costolo, who was named CEO in 2010 and oversaw the company's initial public offering in November 2013, will step down July 1. Dorsey will take his place until Twitter finds a permanent replacement.
In the same interview, Alwaleed, also an investor in 21st Century Fox Inc., said he fully supports Rupert Murdoch's reported plan to hand the CEO title over to his son James Murdoch. The elder Murdoch will remain chairman, according to a person familiar with the matter.
The "tech savvy" younger Murdoch will inject "new blood" into the company, he said. Alwaleed said he has been in continuous discussion with the Murdochs, without elaborating further.