Tisch Scion Forsakes Family Business for New York's War on Crime
Henry Goldman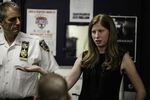 Jessica Tisch's self-defined mission to "democratize" police data may not sound as glamorous as her family's co-ownership of the New York Giants football team or her father's leadership of Loews Corp., the worldwide conglomerate of insurance, energy and hotel companies.
Yet as New York Police Commissioner Bill Bratton's deputy for information technology, the 34-year-old, Harvard-educated scion of one of the city's wealthiest families has been at the forefront of the department's goal to become the world's most sophisticated counterterrorism and crime-fighting force.
The city Bratton calls the nation's No. 1 terrorist target has also become one of the safest. That's partly due to CompStat, the pioneering computerized crime-tracking system that helped reduce homicides to a record low of 333 last year, from 1,117 in 1995. Now, Bratton has put Tisch in charge of taking the technology further by equipping officers with mobile phones and squad cars with tablets linked to the NYPD's crime center. It's what Tisch means by democratizing the data.
"What we're doing is revolutionizing the way cops in the field access data," Tisch said this week in an interview. "Today, an officer gets information the same way as 50 years ago: through their radio. How do you show a picture of a missing child? It used to be back at the precinct for roll call. Now we can blast it out to all police simultaneously."
Microsoft Check
Among the mementos Tisch keeps in her office at police headquarters is a $375,355.20 check that Microsoft Corp. paid to the city, a deal she helped negotiate before she became a deputy commissioner. It allowed the company to sell counter-terrorism systems developed in New York to other cities.
"She has the ability to see what the future could be and ignore all of the hurdles, and drive everyone around her to work so that vision of hers is realized," said Dave Mosher, general manager of Vexcel Corp., a Microsoft subsidiary. The Boulder, Colorado-based company has 60 employees and subcontractors working full-time with the NYPD on its technology initiatives.
The city's collaboration with Microsoft began in 2007 with an effort to protect Wall Street from a terrorist attack by creating a data-management system that combined information from street cameras, license-plate readers, radiation sensors and law-enforcement databases. By 2012, NYPD officials realized that the technology could be deployed citywide as a "domain awareness system" to fight not just terrorism, but all crime.
Tisch was hired in 2008 by former Commissioner Raymond Kelly as an analyst in the counterterrorism unit. It was her first job after seven years at Harvard University, where she earned a law degree and an MBA.
'Particular Skill'
Kelly said the hiring had nothing to do with her background as the daughter of James Tisch, chief executive officer of Loews, the company founded by her grandfather Laurence Tisch and great-uncle, Preston Robert Tisch. Her mother, Merryl Tisch, serves as chancellor of the New York State Board of Regents, which sets education policy. Steven Tisch, her father's cousin, is chairman of the National Football League's Giants, which is co-owned by the Tisch and Mara families.
"You look at her resume, her education, it's an attention-getter," Kelly said in an interview. "She demonstrated particular skill in making sure subcontractors were doing what we needed them to do."
After about a year, Kelly made Tisch director of policy and planning. In 2013, as the commissioner's chief counsel, she negotiated the deal with Microsoft.
The awareness system, a quantum leap from CompStat, meshes images from street surveillance cameras, license-plate scanners and readings from devices to detect biological toxins and radiation. Tisch is planning to add to this array another experiment in gadgetry: ShotSpotter, which can distinguish gunfire from a firecracker and instantaneously report it within 3 square miles (7.8 square kilometers).
"It gives us a true indication of what's going on in some of these very troubled neighborhoods," Bratton said in a recent radio interview.
Staying On
When Bratton took over the department in 2014 as Mayor Bill de Blasio's appointee, he asked Tisch to remain as his deputy commissioner for information technology.
What she encountered was a department that didn't provide all officers with NYPD e-mail accounts or mobile phones. Access to the rich array of crime-fighting information was restricted to a few hundred desktop computers at precinct headquarters with Internet connections slower than most officers had at home.
The hallmark of Tisch's management style is her insistence that the technology be tailored to the needs of the average cop. She gathers designers and officers together in focus groups to evaluate how to make the gadgets and software user-friendly.
"Designed by cops for cops," is how Mosher puts it.
To ensure that the mobile devices intended for all 35,000 officers would be practical, she asked a detective with the largest hands she knew to trace his palm and fingers on paper. She gave the drawing to Microsoft engineers, instructing them to keep him in mind.
"Not even my dainty hands were small enough to click the buttons, so we needed to make a point," she said.
This year, after a summer of street protests stemming from the police chokehold death of Eric Garner in Staten Island, Bratton put Tisch in charge of a program to outfit officers with body cameras that could record street encounters with civilians. About 1,500 will be tested over the next 18 months at a cost of about $3.7 million, she said.
She's also overseeing the replacement of the department's overheated, cramped, 40-year-old data center with two newly built facilities, reducing reliance on servers with cloud-based data storage.
The NYPD of the future will also provide its own Internet service. The department is in the process of running 678 miles of fiber-optic cable along city streets to provide fast broadband to all 76 precinct headquarters.
"We have a very big celebration every time we hook up a precinct," she said.