Tip for Newbies on Goldman's Helipad: Tuck Your Tie in Your Shirt
Important advice for everyone
By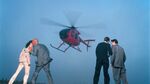 It has been written that everything you need to know, you learn in kindergarten. But anyone who has perused that book will surely agree that it's severely lacking on advice about how to handle a career on Wall Street. 
For example, what are the proper protocols to follow when using Goldman Sachs's helipad so that you don't make an embarrassing faux pas? This is the type of insight an ambitious kindergarten-educated summer intern could use!
Luckily, the Internet picks up where "All I Really Need to Know..." left off for the generation whose motto could be All I Really Need to Know, I Learned on Social Media. Take the app Foursquare, which allows users to check into various businesses and offer tips. There is sound advice sprinkled throughout Foursquare about how best to navigate some of Wall Street's most-famous locations. Of course, much like Wall Street, social media is full of smart alecks. So take these with a grain of salt, as some of the posts may have been made by mischievous college students rather than card-carrying Masters of the Universe. 
Either way, it's hard to argue against the common-sense logic of the Goldman's helipad tips: always tuck your tie in your shirt and batten down anything else that could get whipped around by the propeller wind. Oh, and one other piece of advice for those of you who, no offense, maybe lost some perspective after a few years in the upper echelons of Wall Street: sometimes, believe it or not, it may make more sense to travel by car instead of helicopter. 

Sadly, the seven people who have visited this other Goldman facility didn't leave any tips, but one can assume it's the type of place where you want to make sure you speak only when spoken to, maintain eye contact and don't let your gaze drift too far south: 

For those not lucky enough to ever see the sauna or helipad, there is also just regular old career advice for worker bees toiling away in the Goldman building at 200 West Street in Manhattan: 

Not to mention some sensible fashion advice: 

That last tip may be especially pertinent to anyone who joined Goldman after working at Citgroup's headquarters, where apparently more vibrant colors are encouraged: 

Not to be outdone, there's some solid advice at Morgan Stanley. From the Foursquare page for their building on Broadway:


There are also plenty of tips that could only be classified as "Wall Street miscellaneous," like this one from the Barclays building on Sixth Avenue.  It's from 2010, so it's a bit dated, but it's probably prudent to continue to follow this advice just in case: 


There are all sorts of tips about what to order at the cafeteria for breakfast or lunch. Goldman gets rave reviews from a Foursquare user for the tuna sandwich "with rue bread., red peppers, tomatoes, and jack cheese, pressed (at the panini stand)." (Presumably they really mean rue bread, and not rye bread, because Goldman workers probably don't make typos.)  At JPMorgan Chase & Co., the egg-and-cheese breakfast wrap has been described as "amazing!" But before you blow your hard-earned money on that, consider this tip from the bank's headquarters: 

To repeat: the caveat to all of this is that this is social media, after all, so it's difficult to confirm the veracity of comments posted on Foursquare. For example, it wasn't too hard to spot this dubious claim on the Foursquare page for the world headquarters of Bloomberg (highlighted emphasis ours):