Cars
The $390,000 Ferrari You Can Take to Ikea
The FF may look odd, even dowdy, but once you get inside, you're in Ferrari world
By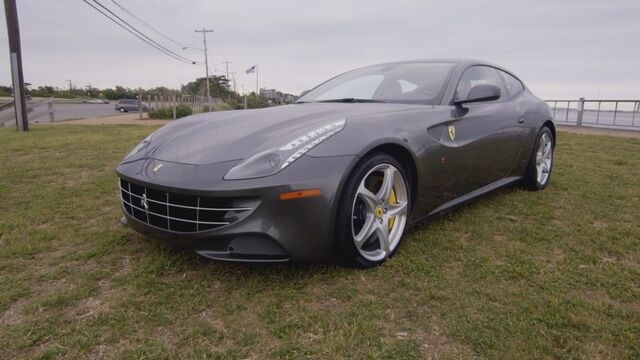 I drove the 2015 Ferrari FF last week. It reminded me of that old Robert Louis Stevenson quote:
"Of the two natures that contended in the field of my consciousness, even if I could rightly be said to be either, it was only because I was radically both."
The $295,000 Ferrari FF ($390,000 with important upgrades) is a very Jekyll and Hyde car. The hatchback side is utilitarian, with the father-knows-best philosophy that comfort and convenience are the ultimate goals. But the V12, 651-horsepower engine side just wants to go fast and hard, with no regard for practicality or politesse.
Practical Looks Vs. Powerful Persona
Here's what I mean.
The FF is a Formula 1-tuned coupe stretched into a hatchback. The front half looks normal, or at least like a Ferrari, but starting with the door handles and working toward the rear, the car looks as if the designers grabbed it by the sides and yanked backwards. The smooth sidebody is stretched like taffy so there's enough room in the back to fit even tall adults in two bucket seats.

At some angles, it looks awkward. A little dumbed-down. These days, wagons and their similarly constructed coupe counterparts are mostly dowdy, reserved for practical semi-retirees in New England or Euro-minded fanboys who wait for months to special-order a diesel hatchback not readily available on these shores. They have the countenance of Eeyore from Winnie the Pooh. At their best, they look like squared-off relics of Scandanavian design. At worst, they look like hearses.
Ferrari has done well to make the FF as handsome as it can be, no small task when you add two large back seats, that automatic rear hatch, and four-wheel drive. Although I personally don't mind the look at all—especially since the car I drove had a subtle, dark slate color—it remains a polarizing form.
But then.
Slip behind the wheel, and suddenly your skepticism and confusion will melt away. You'll forget it was even there, just as you're sure to forget that cup of iced coffee you left on the roof when you got in. You are suddenly in Ferrari world. Nothing else exists. You turn the key (yes, it still requires a real key, rather than an electronic fob), put your foot on the brake, and press the bright red ENGINE START button at the center of the steering wheel. The 6.3-liter V12 mid-engine roars to life like it's about to start the Monaco Grand Prix. You can practically see the sound envelop the car. Everyone within 30 feet turns to look.

Ah yes. THIS is born from the same blood as the 458, the F430, the 488 GTB. This is the car that can hit 60 miles per hour in 3.5 seconds, and 100 mph in 4 additional seconds but won't fight with you when you must keep it under 40mph. This is the car that, when turning, responds to your very thought as if it inhabits your mind: Just this about rounding a bend, maneuvering around a slow-moving Merc on I-495 heading east, and the FF is already there, waiting for you to catch up.
Paddle-shifting from 6th to 7th gear along back roads out near Robert Moses State Park had me giddy. You get the feeling the seven-speed dual clutch FF runs on pure quicksilver.  
This is where you really have to take Mr. Stephenson's Jekyll/Hyde advice: "I make it a rule of mine: The more it looks of Queer Street, the less I ask."
In short, don't ask questions. It's weird. Don't try to understand. Just get in and drive.
It's a Ferrari, All Right

The FF may not look like a California (if you buy one, you'll get used to people asking what kind of car it is), but it is a Ferrari in every sense of the word. The long body is taken from the "shooting brake" form famous from as far back as the 19th century. Its long, two-door saloon style was perfect for carting around picnic baskets filled with finger sandwiches and rosé on Sunday drives through the country.
It's also Ferrari's solution—rather than building an SUV—for accessing the insatiable global demand for luxury crossovers and SUVs. Enzo Ferrari would have rolled in his grave had the 68-year-old automaker tainted its racing heritage with something as unwieldy as a utility vehicle, so his successors designed this instead. 
The bottom line: It's no accident it's called the FF. This is the first Four-seat, Four-wheel-drive Ferrari the modern world has ever seen.
Which makes it a bit of an outlier in the sense that you might wonder just who will buy it. Here's who: wealthy people who already own an expensive roadster or two-seat whip (maybe not necessarily a Ferrari) and who want something equally impressive that's less of an emotional roller-coaster to drive. In the former, potholes, speeding tickets, parking surcharges, unwanted attention in the hood can feel like you're in a bad relationship with a hot spouse. (The FF even has an optional automatic hydraulic lift system that will raise the car to gain 1.6 inches of additional ground clearance.)

For me, that meant I drove the FF to pick up two homies and their in-town-from-LA-for-the-week luggage from JFK. It meant I spent a Sunday afternoon with a friend cruising Fort Greene brunch spots with the windows down and listening to Wiz Khalifa. It meant I drove it to the Red Hook Ikea. Twice. (For the record: You can indeed fit a floor mat, lamp, bed linens, paint buckets, and a silver mixing bowl in the trunk.) The FF proved exemplary for these purposes. 
Inside, nearly everything can be controlled without forcing you to loosen your grasp on the steering wheel. It's a wannabe race car driver's heaven: The blinkers are positioned in perfect position where my thumbs hit at 10 and 2, the windshield wipers are controlled by a small button just below where your right thumb falls, and you depress the horn by pushing small protuberances along the outer rim of the steering wheel. It felt so natural to control these by barely moving any part of my body—let alone removing my eyes from the road—that when I jumped into the BMW X3 I'm testing this week, I kept pushing the steering wheel, expecting something to happen. 
In the rear, the leather-wrapped bucket seats display craftmanship worthy of designer handbags, with intricately stitched black stallions in each headrest. (Look for the new 2016 FF Coupe to lose this perk.) The visibility throughout the machine far surpasses the endlessly more handsome Jaguar F-Type S Coupe I had last week. 
It'll Make You Pay

Compare the FF to Porsche's $79,000 Panamera, which is several inches longer and much larger inside but can't touch the FF in a speed test. Compare it to the $285,000 Aston Martin Vanquish, which offers more of a hood and more of an elegant aesthetic statement but less finesse through the gears.
Be aware that the FF is as stunningly expensive as it is fast: The version I drove cost just under $390,000, which includes an $18,000 panoramic ceiling; the special Ferrari badging costs an additional couple thou. That dashboard display on the passenger side indicating speed costs $4,000. And there's a nearly $4,000 gas-guzzler tax meant to punish you for driving something that gets only 11 miles per gallon in the city. Shameful.
I have a feeling that if you buy this sure-to-be collector's item, frugality isn't the first thing on your mind. You're obviously prepared to pay a lot for something that is unique and rare. And it is. Just be ready to dance with both sides of this beast's character, too. 

Before it's here, it's on the Bloomberg Terminal.
LEARN MORE