Prada Exec Tells London: You're Going Out of Fashion
Andrew Roberts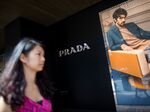 The latest round of men's fashion shows kicked off in London Friday, yet the U.K. capital is so last season for foreign fashionistas.
That's the view of Prada SpA Chief Financial Officer Donatello Galli as he sought to explain how the strong pound is hurting the Italian luxury-goods maker's earnings.
"London is in effect lacking tourists," Galli said on a conference call Friday after Prada reported a 44 percent decline in profit in the three months through April, mainly because of a slump in China.
Prada's U.K. sales didn't grow in the period, Galli said. Meanwhile, travelers from Asia and the U.S. are boosting sales in Europe for the maker of Miu Miu dresses and Church's shoes sales, attracted by the weaker euro, he said.
The pound has gained 8 percent against the euro this year. And Europeans account for about half of U.K. tourist spending, according to analysts at Exane BNP Paribas.
While Prada's lack of innovation is partly to blame for its performance, Galli's comments are supported by industry numbers. Bond Street and the West End, London's two big shopping districts, saw a low-single-digit fall in visitors in the first quarter, and tax-free sales declined 8 percent on Bond Street in the period, Exane said in a report last month, citing figures from duty-free shopping operator Global Blue.
London is the third-largest city in the world for personal luxury-goods consumption, generating more than 10 billion euros ($11.3 billion) of sales last year, or about 4.5 percent of the total, consultant Bain & Co. estimates.