Obama Makes Rare Trip to Congress to Press Dems on Trade Deal
Billy House and Carter Dougherty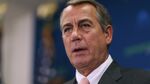 President Barack Obama made a rare trip to Capitol Hill Friday to press fellow Democrats to back his trade agenda, a key second-term priority, in a sign that his own party may scuttle a vote on fast-track negotiating authority.
With the House set to vote soon, some Democrats are threatening to oppose providing aid to displaced workers -- a program they typically support -- as a means to block a vote on the expedited trade negotiating authority sought by Obama.
"I don't think you ever nail anything down around here," Obama said as he left the meeting with House Democratic leader Nancy Pelosi. "It's always moving."
Under an agreement between House Republican and Democratic leaders, the fast-track bill won't come to a vote unless the displaced-workers aid is passed.
Democrat Henry Cuellar of Texas said Republicans may provide extra votes to pass the displaced workers' plan and clear the way for a final vote on the fast-track trade bill.
Cuellar said Republicans told him Friday morning that more than 100 Democratic votes were needed and Republicans might provide additional votes.
"I think they can do better than the number they gave me," Cuellar said. "Everybody holds off to see where we are."
Wasn't Swayed
Representative Mike Honda of California, an opponent of the trade package, said he wasn't swayed by the president. Nor was Keith Ellison of Minnesota, who said, "He said if we don't do it his way then we aren't playing it straight. Well, I am playing it straight."
White House spokesman Josh Earnest forwarded a Twitter posting by Obama's ambassador to Japan, Caroline Kennedy, who wrote, "My dad, JFK, was for free trade. Democrats today should be too."
The fast-track measure would strengthen Obama's authority in negotiating trade agreements with foreign governments, including a pending partnership with 11 other Pacific Rim nations. Most Republicans in the House appear poised to vote for the legislation, while most of the president's fellow Democrats oppose it.
"We have the votes" to pass fast-track negotiating authority, House Ways and Means Committee Chairman Paul Ryan, a Wisconsin Republican, said in an interview on CNBC. "The question today is whether or not the Democrats are going to deliver their votes for something called trade adjustment assistance, which is a necessary component."
Unusual Alliance
It's an unusual alliance for Republicans and Obama, who have found common ground in the belief that trade promotion authority, or TPA, would help U.S. workers and set rules for the global economy. Republican fans even chanted "TPA" when Obama made a surprise visit to the annual congressional baseball game Thursday night at Nationals Park in Washington.
Many Democrats remain stung by the 1994 North American Free Trade Agreement, which labor unions blame for a decline in U.S. manufacturing jobs.
"We've been working our way through this process and I feel good about it," House Speaker John Boehner, an Ohio Republican, told reporters Thursday as lawmakers prepared to consider measures that will set trade policy into the next decade.
The White House spent much of Thursday wrangling support for a separate measure aiding workers displaced as a result of past trade agreements after Democrats staged a revolt. Obama himself worked the phones.
Pelosi of California negotiated a procedural compromise with Boehner that linked the two bills. Opponents responded by trying to kill the worker aid bill to head off a vote on fast-track authority.
Procedural Compromise
House Republicans who control the chamber, with help from Democratic backers, adopted a rule, 217-212, that will govern Friday's debates and votes.
Pelosi, who has ensured that Obama has had room to make his case on trade and stayed neutral on the bills, took that role a step further Thursday. She defended the process she agreed on with Boehner, said an aide in the room during negotiations who sought anonymity to describe the meeting.
"She negotiated this," Democrat Gerry Connolly of Virginia told reporters Thursday. "She has ownership of this."
Connolly, vice chairman of the pro-trade New Democrat Coalition, said Pelosi didn't disclose if she'd vote for the bills herself even as she invited Obama's lieutenants to make their case at Thursday's closed-door meeting.
Representative Sander Levin of Michigan, the top Democrat on the House Ways and Means Committee, said in opposition that the trade package won't keep other countries from manipulating currencies or harming workers' rights and the environment.
'Basic' Rights
"It is about countries like Mexico that deny their workers basic labor rights to gain an unfair competitive advantage over our companies and workers, and Vietnam and Malaysia who stand in clear violation" of workers' rights, Levin said.
At the same time, Republican leaders accommodated their own members with a series of favors wired into bills that didn't touch on worker assistance or negotiating authority. That lets them consider the same legislation, H.R. 1314, that the Senate passed, thus avoiding a conference committee and sending the bill directly to Obama for his signature.
Ryan included strengthened enforcement of existing trade rules to satisfy members of his party concerned about the effect on the steel industry. Republican hardliners on immigration got a provision ruling out changes to U.S. immigration laws through the fast-track procedure.
Preventing Deals
Representative James Sensenbrenner, a Wisconsin Republican, successfully pressed for language aimed at preventing trade deals from becoming vehicles for rules aimed at stalling climate change.
Treasury Secretary Jacob J. Lew, who met privately on Thursday with House Democrats alongside other senior administration officials, called the scheduled votes on trade a life-or-death moment for the displaced workers' program, and urged fast-track opponents to support it, said the aide who was in the room.
"If we lose it, it may never come back," said Representative Gregory Meeks, a New York Democrat who supports both trade measures.
Fast track would let Obama submit trade pacts to Congress for an expedited, up-or-down vote without amendments. The president has said he wants to complete the 12-nation Trans-Pacific Partnership trade agreement and send it for approval under that procedure.
Pacific Agreement
In an indication of the administration's confidence that trade promotion authority will pass, U.S. Trade Representative Michael Froman told a group of chief executive officers on Wednesday that they should prepare for a similar lobbying campaign to pass the Pacific trade agreement.
"It may not be at the same intensity for six months, but that will be a big debate," Froman said.
The first part of the multi-bill trade package, which would promote trade with poorer countries, passed 397-32 Thursday. On Friday, the House will vote on a customs and enforcement bill.
The House plans to vote on the fast-track bill only if members first pass the displaced-workers program, which had been sought by Democrats. A majority for the worker program is less certain than one for fast track.
Some Democrats who oppose fast-track said they hope to persuade enough Democrats to vote against aid for displaced workers, even though they support it, to prevent fast track from coming to a vote. Representative Jan Schakowsky, an Illinois Democrat, said killing the workers' aid was worth the price.
"There are plenty of those who feel that's not such a bad price to pay for saving American jobs," she said.