Here's What Wall Street Is Saying About the Management Shake-Up at Twitter
The social media giant's CEO just flew away.
By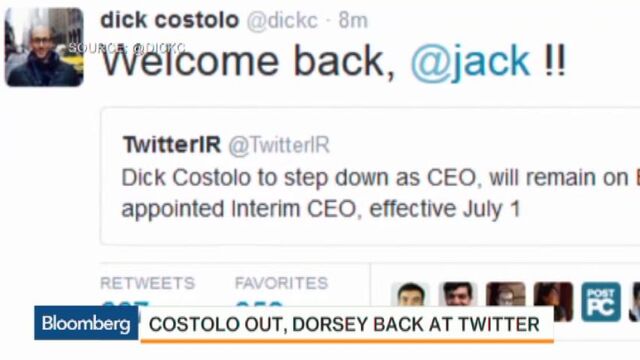 News of Twitter removing the 140-character limit for direct messages quickly moved to the sidelines once the company announced the departure of Dick Costolo, its CEO for the five past years.
His exit takes effect on July 1, when board chairman and co-founder Jack Dorsey will step in to serve as the interim CEO.
The news broke after the market closed, and the stock surged about 10 percent in after hours trading before paring back those gains. 
Obviously this was huge news to the analysts that cover the company, and Wall Street research notes are pouring in this morning.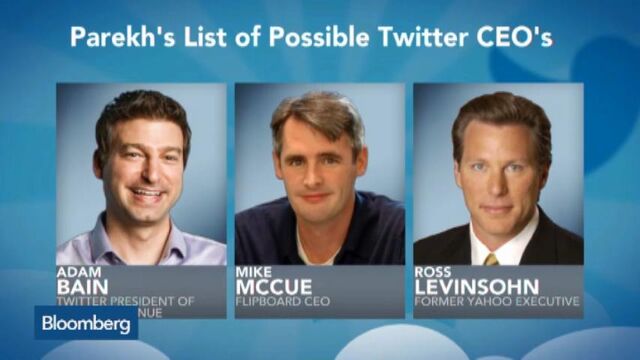 So what are their thoughts? Here's a quick roundup, with the majority of them expressing skepticism on whether this is good for the company or not. 
Wells Fargo:
[The] market will likely embrace change, but strategy remains key question. While frustrated investors may applaud the move on the basis of any change is better than status quo (shares +4% after hours 6/11), we believe the key question remains whether TWTR will make necessary changes to lure back the roughly 700MM+ users we believe use the service infrequently, or have left altogether.
Morgan Stanley:
CEO Dick Costolo has resigned, but our thesis remains unchanged as we continue to view uncertainties around the core business - growing users, engagement, and delivering advertising ROI - as the biggest stock overhangs. Reiterate EW.
Macquarie:
The bottom line is that, as Jack Dorsey stated, TWTR has unmet potential. And the surprise timing of this announcement, combined with the "steady-as-she-goes" tone of the executives on the conference call, indicate to us that TWTR will continue to underperform until it can either a) significantly improve its execution against its current strategy, or b) institute a new vision. The comments from Jack Dorsey strongly suggest that they intend to follow the current strategy, only with a new CEO. Unfortunately, we did not hear anything that indicates to us that they understand what steps need to be taken to regain momentum.
Jefferies:
In a move likely driven by shareholder consensus, CEO Dick Costolo is stepping down effective July 1st. Shareholders have become frustrated amid decelerating growth in MAUs and recent monetization issues. In the interim, Co-Founder and Chairman of the Board (and current CEO of Square) Jack Dorsey will serve as CEO as the co. searches for Costolo's replacement. We believe user growth and product improvements, not monetization, should be the new CEO's [short-term] focus. 
Deutsche Bank was essentially the only optimistic one in the bunch: 
While most investors were eager to see CEO Dick Costolo step aside, we think he deserves much credit for scaling the business from $3B in value to over $25B over his six-year tenure, a feat few others in consumer internet can match. Further, the CEO dislocation coupled with no super-voting share structure, a board somewhat on the defensive, lots of potential asset value, and the current environment of cheap money - leads us to think M+A from a strategic just became slightly more possible (but we aren't playing for that outcome). At 7.5x 2016 revenue (vs. 10x for FB) and lots of potential catalysts, we view the risk/reward as favorable. Buy. 
Bank of America Merrill Lynch was skeptical but also addressed the potential of Twitter as an acquisition target:
Mr. Costolo's departure could renew speculation that Twitter is an acquisition target, in our view...While the CEO change could be a long-term positive (the stock jumped 9% before settling back at 4% in the aftermarket), we are maintaining our Neutral rating as we expect weak MAU trends in 2Q (Twitter reiterated that it is not seeing the same benefit in user adds in 2Q as in 1Q). We remain constructive on Twitter's monetization opportunity given content and user quality, but we remain cautious on user and engagement growth vs social peers and valuation.
Cowen and Company said they weren't shocked by announcement of Costolo's departure.
We are not too surprised by the change in leadership, given user growth and engagement challenges. We view Mr. Costolo as building a strong management team and driving needed product changes, like simplifying the sign-on process and other features ("while you were away"). There is more work to be done on the product offering to drive engagement and user growth, as well as work on building or partnering on the advertising side to effectively compete vs existing and emerging Social / Digital platforms and continue fast-paced topline growth.