business
Bank of England Deputy Made U.K. Dame as Spacey Knighted
By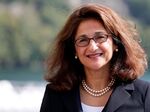 Bank of England Deputy Governor Minouche Shafik and actor Kevin Spacey were honored by the U.K. to mark Queen Elizabeth II's birthday, with awards also going to former Xstrata Plc Chief Executive Officer Mick Davis and musician Van Morrison.
Shafik, the BOE's deputy governor for markets and banking, becomes a Dame Commander of the Order of the British Empire, entitling her to use "Dame" in front of her name. Spacey, whose term as artistic director of London's Old Vic theater ends this summer, becomes an honorary knight, though as a U.S. citizen he won't be permitted to call himself Sir Kevin.
"I am honored and humbled by such recognition from the queen," Spacey said in a statement on Friday. "I must thank the British public for being so supportive of my efforts on behalf of the Old Vic. I feel like an adopted son."
Highlights of Spacey's stay at the theater in London's Waterloo district over the past 11 years have included performances in the lead role of Shakespeare's "Richard III" and in a one-man show as pioneering lawyer Clarence Darrow.

Shafik Shakeup
Shafik was appointed to the central bank last year in a newly created role as part of Governor Mark Carney's shakeup of the management structure. She joined the BOE from the International Monetary Fund, and before that worked at the World Bank.
She led the BOEs year-long Fair and Effective Markets Review, which published its recommendations for preventing and dealing with market abuse on Thursday. She will also help lead the bank's plan to exit quantative easing. Shafik was named last month at No. 66 on Forbes magazine's list of the world's most powerful women.
Steve Nickell, a member of the Office for Budget Responsibility and a former member of the BOE's Monetary Policy Committee, also receives a knighthood.
Davis, who is honored for his work as chairman of Prime Minister David Cameron's Holocaust Commission, also becomes a knight, as does Conservative Party Treasurer and Arbuthnot Banking Group Plc Chariman Henry Angest.
Rock Legends

Belfast-born Morrison, known for "Gloria" and "Brown Eyed Girl," is honored under the name George Ivan Morrison, joining a string of previous rock-music knights that includes Paul McCartney, Mick Jagger and Elton John.
Comedian Lenny Henry, former Williams Formula 1 team director Patrick Head and Paul Kenny, general secretary of the GMB labor union, will also become knights in ceremonies in which they will kneel before a member of the royal family and be touched on both shoulders with a sword.
Lloyds Banking Group Plc non-executive director Sara Weller, England rugby star Jonny Wilkinson and Michael Bond, the creator of Paddington Bear, become Commanders of the Order of the British Empire, or CBEs. Actors Benedict Cumberbatch - Oscar-nominated for "The Imitation Game" - and Chiwetel Ejiofor - another Academy Award nominee for "12 Years a Slave" - receive the same honor.
Sporting Success 
The honors, awarded twice yearly, are bestowed in the name of the queen and recommended by a panel that considers suggestions from government departments and political parties as well as from members of the public.
Women make up 51 percent of the 1,163 people receiving honors, the Cabinet Office said in a statement announcing the awards on Friday. Seventy percent of the people on the list received their awards for work in their local communities, ranging from Hugh Barr, vice-president of the Northern Ireland Ploughing Association, to Vartan Vartoukian, the cinema manager at an army barracks in the south of England.
Sports people honored in the awards alongside Wilkinson include England cricketer James Anderson and New York City FC soccer player Frank Lampard, who become Officers of the Order of the British Empire, or OBEs. Boxer Carl Froch is awarded the title of Member of the Order of the British Empire, or MBE, the same honor bestowed on long-distance runner Jo Pavey, the winner of last year's European 10,000-meter title at the age of 40.

Gender Equality
Laura Bates, founder of the Everyday Sexism project, is awarded a British Empire Medal in recognition of her work to promote gender equality.
"I specifically set out to close the gap between the widespread public belief that we'd achieved equality and the experience of women's daily lives,"
Bates told reporters in London on Friday. "Women are underrepresented in almost all areas of public life. There are more men named John running FTSE 100 companies than there are women."
Other musicians recognised in the honors alongside Van Morrison include Northumbrian piper Kathryn Tickell, who becomes an OBE, and Ashley Hutchings, a founder member of Fairport Convention, who is awarded an MBE along with South African world-music pioneer Johnny Clegg. Wildlife artist Robert Gillmor also receives an MBE.
Before it's here, it's on the Bloomberg Terminal.
LEARN MORE