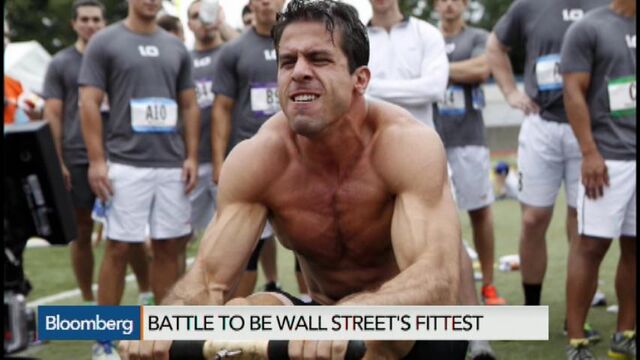 Jay Li calls his secret weapon the "Bane" mask.
The 33-year-old equity analyst at Trafelet Brokaw owns a frustrating-yet-admirable claim to fame: He's the second-fittest man on Wall Street. Li isn't especially happy about that title, one he's earned the past two years in the annual Wall Street Decathlon—and one he's aiming to retire at this year's event, which takes place June 13-14 at St. John's University in New York.
The Bane mask—Bane being the Batman villain—is Li's ticket to the top, or so he hopes. Wearing it during his cardio routines intensifies his training by restricting airflow, a masochistic tactic intended to mimic high altitudes. "The outcome is determined by what you've done—or not done," Li says. "On the day of the competition, I'm not holding anything back."
In reality, there's only one man Li cares about beating this weekend: Mark Rubin. The 29-year-old futures and options sales trader, who's starting a new job at ICAP, has won the decathlon three years in a row. Last year's contest was so close that it came down to the final event; Rubin beat Li in the 800-meter run by less than a second, and his 7,272 total points topped Li's 7,262. Hence the Bane mask.

While Li (5'9", 170 pounds) hasn't otherwise been a competitive athlete since high school, Rubin (6'3", 225 pounds) boasts a serious athletic pedigree, having played safety for Penn State University, where his teams won two Big Ten championships, and, very briefly, the St. Louis Rams. Growing up, Rubin also excelled at lacrosse and swimming. He was so good in the pool as a kid, in fact, that he defeated both Michael Phelps and Ryan Lochte (although "that was a long time ago," he says).
Over lunch last month—Li went with a burger, no cheese, and fries, while Rubin welcomed the cheese but opted for a side of asparagus—they discussed their friendly rivalry. "Jay's a top competitor," says Rubin, "and it shows year after year." Li says that he most admires Rubin's competitiveness: "There have been a couple of events where I thought, 'That should put some pressure on him.' And then he steps up with a great performance."
Their rivalry also happens to benefit charity. The competition, which is expected to attract about 275 Wall Street professionals this coming weekend, is in its seventh year and has raised more than $5.1 million for Memorial Sloan Kettering Cancer Center to date. The team event will take place on Saturday. Men and women competing as individuals will contend on Sunday. Over the years, Rubin and Li have raised more than $30,000 and $12,000, respectively.
Their dedication also shows in their workouts. "Most people, especially newcomers, focus only on a few events and don't appreciate the breadth of training this takes," says Rubin, who knocks out three or four a week year-round. Li, who also placed third in 2012, does five or six workouts a week. He began ramping up 13 weeks before this year's competition, devoting different days of the week to specific events and using an Excel spreadsheet to track his progress. "I've finished third once and second twice," he says. "There's only one spot left."

The Wall Street Decathlon is a kind of cross between an NFL Scouting Combine and a traditional Olympic decathlon, with the 10 events packed into a single day. "It starts with a 400-meter run," says Rubin, "and you never recover after that." Indeed, between the 400 at the beginning and the 800 at the end, the competition consists of a football throw, pull-ups, a 40-yard dash, dips, a 500-meter stationary row, a vertical jump, a 20-yard shuttle, and a bench press.
Even Rubin has his weaknesses; he admits he'd like to steal Li's dips. Li notched an event-best 72 last year compared with Rubin's 44. And what would Li snag from the defending champion? Rubin's row (1:22.0). Li clocked 1:35.8 in that event last year.
Both men say that working at a desk represents a serious challenge for their training—as does aging. "I'm at my desk by 6:30 a.m. I sit for 12 hours. Then I train," says Rubin. "The trick is not getting injured. You have to stretch. Recovery takes longer than it did in my early 20s."
Rubin and Li also concede that there's at least one other competitor who might complicate things this weekend. Collin Zych of Greenhill & Co., a former Harvard University football captain who was briefly with the Dallas Cowboys, has claimed third place the past two years. And he's only 26 years old.
A version of this story appears in the July/August special Rivalry Issue of Bloomberg Markets magazine.
Before it's here, it's on the Bloomberg Terminal.
LEARN MORE