Vatican Stops $10,000-Per-Goal Donation Deal Amid Soccer Scandal
Juan Pablo Spinetto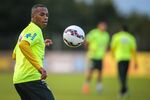 The Vatican suspended an agreement to receive a donation from the Copa America soccer tournament after FIFA was hit by a corruption investigation that implicated organizers of the event.
Scholas Occurrentes, an educational organization created by Pope Francis in 2013 to promote social integration through sports, put on hold an accord it reached in April with South American soccer's regional body Conmebol, it said in a e-mailed statement. As per the agreement, Scholas would get $10,000 per goal and saved penalty shot during this year's edition of South America's top soccer competition, which Conmebol organizes.
"Scholas will abstain from receiving any funds until the ongoing judicial investigation comes to a conclusion," the organization said. "We believe the current investigations are important to protect the integrity of the institutions and soccer."
Conmebol didn't immediately reply to an e-mail seeking comment on the decision. The Pope is from Argentina, which is a 7-4 favorite to win the tournament at U.K.-based William Hill.
Soccer's oldest national team competition started in Chile on Thursday -- the host nation defeated Ecuador 2-0 -- under the cloud of the biggest scandal in the history of governing body FIFA. A corruption investigation unveiled last month resulted in the indictment of 14 people, with U.S. prosecutors saying they were tied to corruption in the world's most popular sport.
$110 Million
All but two were from Latin America and the Caribbean, with authorities saying $110 million in bribes related to television rights were agreed for four editions of Copa America.
Venezuelan Rafael Esquivel, a member of FIFA's disciplinary committee, was among the nine officials of soccer's governing body and five corporate executives indicted on May 27 and arrested at the hotel Baur au Lac in Zurich. He was in the Conmebol delegation that signed the per-goal donation agreement on April 21 at the Vatican, according to a Scholas news release at the time.
Separately, the Paraguayan parliament on Thursday passed legislation revoking immunity from prosecution on the headquarters of Conmebol in Asuncion.