American Billionaire Takes on Samsung
Rose Kim, Kyunghee Park and Jiyeun Lee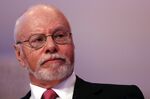 Paul Elliott Singer could not have picked a bigger fight in South Korea. The American hedge-fund manager said he would oppose a proposed merger within Samsung Group, thereby laying down a challenge to the country's most powerful company and its richest family.
Predictably, all hell has broken loose. The local press has attacked Singer as a meddling pariah, casting doubt on his motives and advocating more protection for domestic companies. The Korea Economic Daily went as far as calling on regulators to investigate Singer for insider trading or other illegal activities, despite the absence of any evidence.
Yet the support for Samsung is hardly unanimous. Hundreds of minority investors are banding together to back Singer and, perhaps more importantly, the government has stayed neutral. The billionaire is doing more than raising questions about one deal: He's set off a debate about the privileged position the industrial titans known as chaebol have held in Korea -- and whether they should keep getting special treatment.
"Samsung and South Korea are at a crossroad," said Kim Sang Jo, executive director at Solidarity for Economic Reform and professor at Hansung University. "If Samsung sticks to its old ways or if South Korea stirs up a nationalistic movement against Elliott, foreign investors' interest in South Korea will sour."
The chaebol have held a special place in the country ever since they helped rebuild the economy after the Korean War. They were given explicit government support and protectionist policies as the country modernized and became the fourth-largest economy in Asia. Samsung is as revered in South Korea as Apple Inc. and the founding Lee family is effectively royalty.
Generational Shift
The merger at the heart of the fight with Elliott is part of a once-in-a-generation leadership change at Samsung. Lee Jae Yong, grandson of the group's founder, is positioning himself to take control of the conglomerate, a collection of 67 companies generating about $270 billion in annual revenue. In the proposed deal, the de facto holding company Cheil Industries Inc. would acquire Samsung C&T Corp., solidifying the younger Lee's control over the crown jewel, Samsung Electronics Co.
Singer is an unwelcome guest at the coronation. He took a stake in Samsung C&T and has argued that the $9 billion all-stock takeover offer from Cheil "significantly undervalues" the target's worth. His Elliott Associates LP filed legal papers to block the deal just a week after emerging as Samsung C&T's third-largest shareholder.
Bad Timing
Singer's problem with the deal is that he's done the math and for him it doesn't add up. Cheil's all-stock offer is valued at about 8 percent below C&T's latest closing price, according to data compiled by Bloomberg.
Elliott's defiance has come at a bad time for Samsung. Lee and his siblings, who control Cheil, need C&T to solidify their grip on their business empire because C&T owns about $11 billion of group company shares, including those of Samsung Electronics.
Because the deal needs the approval of at least two-thirds of votes at the extraordinary general meeting on July 17, both sides are lobbying other shareholders to join their campaigns. Elliott, through an external public relations agency, declined to comment.
Past Campaign
Unlike past proxy contests in Korea involving foreign investors -- think billionaire brothers Richard and Christopher Chandler, activist Carl Icahn and Warren Lichtenstein of the hedge fund Steel Partners -- the outsiders are getting some local support. For example, in an Internet cafe on Naver Corp.'s website, over 600 minority investors holding more than 800,000 shares combined in C&T as of Thursday agreed to delegate their voting rights to Elliott to block the merger.
"Public awareness has gone up and Koreans have become more lenient about foreign investors," said Chae Yi Bai, an analyst at Center for Good Corporate Governance. "People don't immediately label them as thieves."
Elliott also has gotten an ally in APG Groep NV, manager of the world's second-largest pension fund, which said it plans to vote against the merger.
Samsung's not without its share of friends. KCC Corp., historically a Samsung ally, said Wednesday it will buy Samsung C&T's treasury shares, equivalent to a 5.8 percent stake, ahead of the shareholders' meeting. The Lee family and other Samsung units own about 13.9 percent of C&T, according to regulatory filings.
Swing Vote
A notable investor that's kept mum is C&T's single biggest one: South Korea's 482-trillion-won National Pension Service, a fund overseen by the nation's health ministry. While NPS has declined to comment on how it will vote, the fund has sided with management 91 percent of the time last year. In previous years, it helped companies such as KT&G Corp. and SK Group thwart challenges to management.
Behind the sporadic challenges to the chaebol are concerns about founding families making unfettered decisions at the expense of other shareholders.
Case in point: Hyundai Motor Group shocked investors last year when it agreed to buy real estate in Seoul for a record 10.6 trillion won, triple the land's assessed value, for its new headquarters. The deal led group companies to lose billions of dollars of market value and even got the NPS to oppose the reappointment of two external board members. Hyundai Motor has since said it will take measures to improve decision making by taking into account minority shareholders' rights.
Perceived corporate governance concerns are among the key reasons why Korean stocks typically trade at lower valuations than global peers. For example, the country's benchmark Kospi index trades at about 11 times projected earnings, compared with a multiple of almost 17 for the MSCI World Index. Investors have criticized the chaebol for weak corporate governance, which is said to depress the country's stock prices.
More Protection
From the chaebol's perspective, they're the victims.
"The more serious problem here is that Korean companies, including conglomerates, aren't protected from these threats," said Shin Seuk Hun, head of corporate policy at the Federation of Korean Industries, a lobbying group. "Other countries have regulations in place that can protect companies in such cases, but Korea doesn't have any. The foreign funds know this."
Korean conglomerates should brace for more challenges, particularly groups where the founding families have relatively weak ownership structures such as Hyundai Motor, Shin said. Hyundai declined to comment.
Still, Shin acknowledged public opinion on the chaebol has deteriorated over the years and said the government needs to come up with better regulations.
Another way to alleviate concerns could be for investors to be more proactive in weighing in on their investments.
"We are at a very critical point," said Kim, the professor at Hansung University. "The world has changed and South Korea has changed."
For more, read this QuickTake: Samsung