Rick Santorum Says Economic 'Stagnation' Will Help Him Win in 2016
The former Pennsylvania senator and 2012 presidential candidate was asked what is different about his latest bid for the White House.
By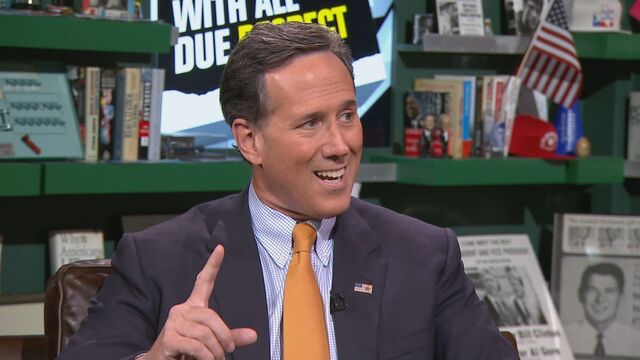 To hear Rick Santorum tell it, the nation's tepid economic recovery may be his key to winning the Republican presidential nomination. 
Interviewed Thursday on Bloomberg's With All Due Respect, Santorum was responding to comments from Iowa voters asking what's different in 2016 after the former Pennsylvania senator won that state's caucus but lost the nomination to Mitt Romney in 2012.
"What's different is the country has been in stagnation four more years,'' Santorum said. "I recognize what the core of that problem is, and we have an economic platform that's going to not only unite America but win this election.''
Santorum said he has a "pro-worker immigration policy" and plans to release an economic and tax plan soon that will focus on manufacturing, construction and energy jobs. It will appeal to disaffected Democrats and "folks in middle America who are seeing their wages flat-lined, income falling, and neither political party addressing that,'' he said.
The former Pennsylvania senator had 6 percent support in a Bloomberg Politics/Des Moines Register Iowa poll released May 30 with former Florida Senator Marco Rubio, behind Wisconsin Governor Scott Walker at 17 percent, Senator Rand Paul of Kentucky and retired neurosurgeon Ben Carson at 10 percent, with former Florida Governor Jeb Bush and former Arkansas Governor Mike Huckabee next at 9 percent each.