Ornette Coleman, Innovative `Free-Jazz' Saxophonist, Dies at 85
Felix Kessler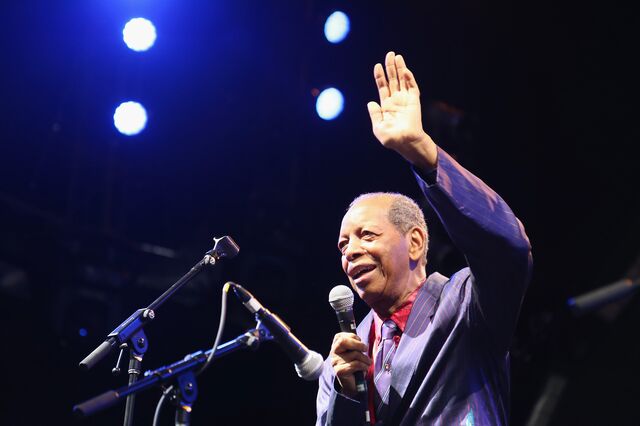 Ornette Coleman, the self-taught saxophone player who aroused cheers and jeers in the 1950s before being acclaimed the era's most-influential avant-garde jazz musician, has died. He was 85.
He died at Beth Israel Hospital in Manhattan, according to the New York Times, which cited a family representative it didn't name. The cause was cardiac arrest.
Called a fake by some musicians and a fresh voice by others, Coleman early won over critics. He received a Guggenheim fellowship for jazz composition in 1967 and a $500,000 so-called genius award from the MacArthur Foundation in 1994. He also won the Pulitzer Prize for music in 2007.
A decade after his tumultuous New York debut, he was inducted into Downbeat magazine's jazz Hall of Fame in 1969. He later received a Grammy Award for lifetime achievement, though his records never climbed high on the music charts.
From the start, Coleman attracted attention. Physically unimposing, he wore distinctive clothes that stood out even at a time of anything-goes styles. How he expressed himself with words was as strange and original as his music.
"He uses straightforward English words, but he arranges them in sometimes incomprehensible ways," wrote the critic Whitney Balliett in his book, "American Musicians" (1986). "He has invented his own language, and it is aphoristic, poetic, philosophical, comic, and nonsensical."
Coleman told an interviewer in 2006, "Life is already complete. You can't learn what life is. And the only way you die is if something kills you. So if life and death are already understood, what are we doing?"
Born on March 9, 1930, in Fort Worth, Texas, Coleman got his first saxophone at 14 and began playing jazz and rock and roll in local clubs and earning $100 a week, more than his high school teachers.
'Riotous Reception'
Two months after Miles Davis released his historic "Kind of Blue" album in 1959, the trumpeter's triumph was eclipsed when Coleman appeared at New York's Five Spot Cafe. The Montreal Gazette compared Coleman's "riotous reception" to that caused by Igor Stravinsky's ``Le Sacre du Printemps'' in 1913.
Coleman's two-week Five Spot gig was extended to 10 weeks and "split the hip music community in two," Balliett wrote. Jazz giants like Charles Mingus found him "a charlatan and a bore" while Leonard Bernstein called him "a genius."
Davis stood at the Five Spot's bar, his back to the stage, during Coleman's gig. "If you're talking psychologically, the man is all screwed up," Davis said. Saxophonist John Coltrane disagreed, quitting Davis's group to become a Coleman disciple.
Angry Musicians
Drummer Max Roach was so incensed on hearing Coleman at the Five Spot that he punched him in the mouth, Coleman said.
On the other side, the Modern Jazz Quartet's John Lewis was an early booster, recording Coleman's "Lonely Woman" and helping him sign a record deal. Coleman's record titles alone -- "The Shape of Jazz to Come" (1959) and "Change of the Century" (1960) -- angered many musicians.
"Few people have been able to get next to Ornette Coleman's music in one hearing," observed A.B. Spellman in his book, "Four Jazz Lives."
Trouble found Coleman on and off the bandstand. In 1949, his solo caused dancers to stop in a Baton Rouge, Louisiana, dance hall, and he was beaten up by several men who also destroyed his saxophone.
Arriving in Los Angeles, Coleman couldn't get heard. Other musicians accompanying him would stop when he played. Running short of money, he had to work as a freight-elevator operator and would halt between floors to write music. In time he gained supporters.
Plastic Horn
Bassist Charlie Haden was at a Hollywood club "when this guy with a plastic horn came up and asked to sit in," he said. "As soon as he started to play, the whole room, and my whole life, lit up with a sound so brilliant, beautiful and free. That was Ornette."
The moment didn't last. "As soon as he started to play, they asked him to stop," said Haden, who became part of one of Coleman's first groups, along with pianist Paul Bley and drummer Ed Blackwell.
To other jazz musicians, the sound of Coleman's music -- the chords, tones and rhythms -- seemed off-key and out of tempo, clanking up against the music they were used to making and hearing. His white plastic sax also seemed toy-like, causing some to not take Coleman seriously.
His music had "nothing to do with what they teach you in music school," said John Snyder, a record producer and trumpet player. "I studied theory, and Ornette's is the opposite of everything they teach you. It's the sound in the instrument. It's the structure he's built around his feelings."
'Harmolodic' Music
Coleman coined the term "harmolodic" -- a contraction of harmony, movement and melody -- to cover his music-making.
"About the only way to learn how to play Ornette's music is to study with him every day for seven years," Snyder said.
His compositions have been called free-jazz. Coleman was "trying to write, without any restrictions of chord, keys, time, melody and harmony, but to resolve the idea eternally, where every person receives the same quality from it, without relating it to some person," he told the Times in 2006.
In 1962, he stopped performing to study music more deeply. When he emerged three years later, he began playing violin and trumpet as well as the saxophone in his shows.
He also introduced his son Denardo, then only 10, into his group as a drummer, which was viewed by many as another provocation.
Unable to shake controversy, Coleman broadened his musical influence. He began composing orchestral pieces and received the key to his home town, Fort Worth, when its symphony orchestra played his "Skies of America" composition there in 1973.
'He's Jiving'
Trumpeter Roy Eldridge never saw Coleman other than as a fake. "I listened to him all kinds of ways," he said. "I listened to him high and I listened to him cold sober. I even played with him. I think he's jiving, baby."
Detractors could be found even in 2009, when saxophonist Benny Golson in Downbeat described Coleman's free-jazz music as "bogus."
"He said that he played off the melody, not chords," Golson wrote, saying musicians always did that when backing a singer on an unfamiliar song.
Coleman married Jayne Cortez in 1954. The couple divorced 10 years later after having the one son. Cortez, who went on to become a poet and performance artist, died in December 2012.
In the end, Coleman overcame the controversy he created by ignoring it. Like Huckleberry Finn, a Times critic wrote, "he's the country bumpkin who outwits the city slickers, a winning outsider who stays true to his own code."
Before it's here, it's on the Bloomberg Terminal.
LEARN MORE