On the Baseball Diamond, the Mighty GOP Keeps Striking Out
Republicans are looking to break their six-year losing streak in tonight's 54th annual Congressional Baseball Game.
By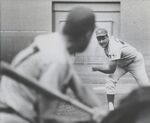 Republicans may have beaten Democrats at the polls to take control of Congress, yet they haven't been on the winning team on the baseball diamond for six years.
The Republican squad heads into tonight's annual Congressional Baseball Game burdened by that dismal record, and by intra-party squabbles over past lineup decisions. Still, like the hometown Washington Nationals, whose ballpark will host the venerable contest, the Republican players are certain some fresh blood will make the difference this year.
"We've got some new guys. I think we've got a good shot at winning," said Representative Roger Williams of Texas, the Republican team coach, during a team practice this week.

The Republicans hold an all-time edge of 41 wins to the Democrats' 38, with one tie. Yet, frustration has been rising with each loss since 2009.
Asked about dissension among members over past decisions by longtime team manager Joe Barton of Texas, Williams said, "I know. I'm not going to go there. I'm just the coach and not the manager."
A tradition since 1909 (with some interruptions) this hardball charity classic has been sponsored by the Capitol Hill newspaper Roll Call since 1962. While played in good fun, the game is also a demonstration of the intense competitive spirit between Democrats and Republicans in the nation's capital.
Many of the House and Senate members are hardly recognizable in their rag-tag assortment of hometown college, high school or professional team caps and uniforms of various cuts and fits.
Professional ballplayers

Past contests have featured lawmakers who once played baseball as their day job. Former professional players who later served in Congress and played in the contest include Hall of Fame pitcher Jim Bunning, Wilmer "Vinegar Bend" Mizell, and the congressional game's initial organizer, John Tener of Pennsylvania, who played five years of pro ball starting in 1885 and served in the House from 1909 to 1911.
Williams, the Texan who's coaching this year's Republican squad, was drafted by the Atlanta Braves and played in their farm system after graduating from college. Other pro and college athletes also have joined their lawmaker colleagues on the field, including former Representative Steve Largent of Oklahoma, who played wide receiver for the NFL's Seattle Seahawks.
Tener set up the inaugural game in 1909 as a fresh way for lawmakers to socialize outside of the halls of the Capitol. The Democrats won that game, 26-16.
By the 1920s, the game caught fire and was being covered by radio with microphones installed behind home plate at Washington's old Griffith Stadium. The circus atmosphere included brass bands in the stands and Republicans arriving triumphantly on the field on the backs of elephants, said Matthew Wasniewski, the U.S. House historian.

'Too physical'
"It was a chance to let off steam and beat up the other party—legally," Wasniewski said.
Mizell, who played 11 years in the major leagues for the Cardinals, Pirates and Mets, served in the House as a North Carolina Republican from 1969 to 1975. Bunning, a former member of the Philadelphia Phillies and Detroit Tigers, served as a House member and then senator from Kentucky from 1987 to 2011.

Bunning (lifetime major league record: 224-184) got shelled as a 56-year-old freshman House member in the 1988 congressional game, lasting two innings and giving up six runs, according to newspaper accounts.
There are various landmarks denoting the eras of congressional baseball: Senators didn't join House members to make it a bicameral game until 1950;  the now-defunct Washington Evening Star sponsored the game from 1946 to 1958, at which point  Speaker Sam Rayburn of Texas called a halt to the annual match. He said it had become too physical.
Speaker John McCormack of Massachusetts revived the game in 1962 with the support of Roll Call, then a new Capitol Hill newspaper.
The game's notable moments include a grand-slam home run whacked in 1957 by then-Michigan Representative and future President Gerald Ford, who had played football at the University of Michigan.
In 1971, Representative Ronald Dellums of California and Walter Fauntroy, a non-voting delegate from Washington, D.C., became the first African Americans to play congressional ball. In 1993, Representatives Ileana Ros-Lehtinen of Florida, Maria Cantwell of Washington and Blanche Lincoln of Arkansas became the first women to play in the annual game.
Put me in, coach

Though the game may originally have been conceived as a way to give lawmakers a chance to blow off steam, the amateur players take their roles seriously. Very seriously. The Republican team's 22-0 drubbing in 2013 led to a bit of a mutiny. Some players complained to Speaker John Boehner they were tired of Barton's philosophy that every Republican who showed up would play—limiting the on-field time for some of the best players.
"We've been trying to get Joe to play our best players. If we play our best players, no one can complain," said Representative John Shimkus of Illinois, one of the team's top three pitchers. He added, "Our drought has been so long."
Barton survived as manager, but Williams became the team coach. That didn't prevent another Republican loss last year, 16-6.
On Thursday, Barton's "everybody gets to play" philosophy stands to be severely tested. As many as 39 Republicans are on the roster compared to 19 Democrats.
"And wait till game time," quipped Senator Jeff Flake, an Arizona Republican, suggesting the potential of even more Republicans showing up and expecting to play.
Any question about who is running the team and should set the line-up? "Not in my mind. I'm the manager," said Barton during practice Wednesday morning in nearby Alexandria, Virginia.
Freshman pitcher
The Republicans' starting pitcher will be a newcomer, freshman Mark Walker of North Carolina.
Democrats have been coy about the status of their pitcher, Representative Cedric Richmond of Louisiana, who has been recovering from shoulder surgery. Richmond played for Morehouse College and has been a star in the game since 2011.
"Cedric's been throwing," insisted Democratic Representative Mike Doyle of Pennsylvania, the Democratic team's manager.
"But you know, we've beaten the Republicans with or without Cedric," Doyle said. "You don't need Cedric to beat them with 22 runs."
For fans eager to tune into the national pastime as played by the nation's representatives, the game can be heard live:  nationwide on Sirius/XM's POTUS Ch. 124; in the Washington area on Federal News Radio 1050AM and online at http://www.federalnewsradio.com. Tickets are available here.

See more Congressional baseball artifacts in the collection of the United States House of Representatives.