business
Mexico's Pena Nieto Stops Short of Pledge to Keep Carstens
Brendan Case and Eric Martin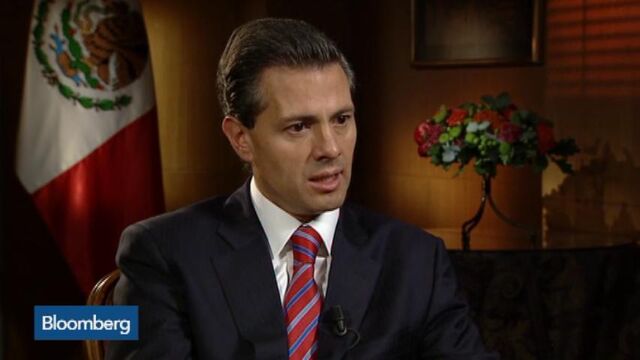 President Enrique Pena Nieto of Mexico stopped short of promising to nominate Governor Agustin Carstens to a second term at the helm of the central bank, saying he'll announce his decision in December.
"Without a doubt, I think Agustin has had a notable performance," Pena Nieto, 48, said in an interview in Brussels with Bloomberg News. "We'll see in December what happens."
Pena Nieto, who is almost halfway through a six-year term, was in Brussels for a meeting of leaders from Europe and Latin America. At midterm elections last Sunday, a coalition led by his party remained the largest force in congress's lower house despite a decline in his personal popularity over allegations of corruption and ongoing concerns over violence.
In the 40-minute interview, Pena Nieto reiterated his pledge to balance Mexico's budget in 2017 and to avoid tax increases for the rest of his administration.
Even with its challenges, Mexico's economy is faring better than that of some other nations, he said. The Mexican economy expanded 2.5 percent from a year earlier in the first quarter, compared with 1 percent growth for the euro zone and a 1.6 percent contraction in Brazil.
Weaker growth in Latin America is part of a broader global trend, Pena Nieto said, and Mexico's economic overhauls will boost productivity and growth in the medium term.
Mexico's peso rose 0.1 percent to 15.4177 per U.S. dollar at 12:12 p.m. in Mexico City. Mexico's peso weakened to an intraday record low on Friday, June 5, and has lost 16 percent in the past year as oil prices tumbled and the Federal Reserve prepares to start increasing interest rates.
Structural Reforms
Pena Nieto said the peso has performed well in the context of a sell-off in global currencies against the dollar. The peso has the sixth-best performance among 16 major currencies tracked by Bloomberg over the past six months.
In his first two years in office, Pena Nieto got congress to pass plans to boost competition in the telecommunications industry and end the state monopoly on oil production -- the most important economic policy change since the North American Free Trade Agreement took effect in 1994.
But the economy has disappointed relative to investor expectations, with gross domestic product growth missing analyst estimates in eight of the past 12 quarters and trailing the U.S. for two straight years. Economists have cut their forecasts for this year's expansion to 2.7 percent, down a percentage point in the last seven months, according to a central bank survey, as oil prices and output tumbled.
Rate Cuts
Under Carstens, the central bank has cut rates to a record-low 3 percent to boost an economy that has repeatedly missed growth forecasts. At the same time, inflation has slowed to the lowest level since 1968, reaching 2.88 percent in May, and dipping below the central bank's 3 percent target for only the second time ever.
In an October interview, Carstens said he'd serve a second term if asked.
Carstens, 57, was named to a six-year term as head the central bank's five-member rate-setting board in 2009 by Pena Nieto's predecessor, Felipe Calderon of the National Action Party. He served as Calderon's finance minister from 2006 through 2009, guiding Mexico through a recession amid the global financial crisis.
After Carstens ran for the top job at the International Monetary Fund in 2011, losing out to France's Christine Lagarde, Euromoney named him its central bank governor of the year in 2013, saying the "IMF's loss has been Mexico's gain."
(Updates with comments on taxes in sixth paragraph.)
Before it's here, it's on the Bloomberg Terminal.
LEARN MORE