Jobless Claims in U.S. Hold Below 300,000 for a 14th Week
Shobhana Chandra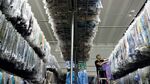 Applications for U.S. unemployment benefits remained below 300,000 for a 14th straight week, a sign of labor market strength that will help fuel U.S. growth.
Jobless claims rose by 2,000 to 279,000 in the week ended June 6, a Labor Department report showed Thursday in Washington. The median forecast of 48 economists surveyed by Bloomberg called for 275,000. The four-week average of initial applications also crept up.
The data indicate employers are retaining workers in anticipation of a pickup in demand this quarter after a slow start to the year. Combined with a spring spurt in payrolls, the employment picture bodes well for household spending, the biggest part of the economy.
"There's not much going on in the way of layoffs, they remain low," said Joshua Shapiro, chief U.S. economist at Maria Fiorini Ramirez Inc. in New York, who projected claims of 280,000. "The labor market is reasonably good. Consumer spending is getting support from the labor market clearly and from some income growth."
Another report Thursday showed a pickup in May retail sales. The Commerce Department said purchases last month jumped 1.2 percent, reflecting broad-based gains from auto dealers to clothing retailers to department stores, after a 0.2 percent April gain.
Since the first week of March, applications for unemployment benefits have been below the 300,000 level that economists say is consistent with an improving job market.
No states estimated data last week and there was nothing unusual in the report, an agency spokesman said as the figures were released.
Economists' estimates in the Bloomberg survey ranged from claims of 260,000 to 285,000. The Labor Department revised the previous week's figure to 277,000 from an initially reported 276,000.
The four-week moving average, a less volatile measure than the weekly numbers, climbed to 278,750 last week, from 275,000.
Continuing Claims
The number of people continuing to receive jobless benefits rose by 61,000 to 2.27 million in the week ended May 30. The jobless rate among people eligible for benefits climbed to 1.7 percent from 1.6 percent. These data are reported with a one-week lag.
Federal Reserve policy makers are watching the labor market as they consider the timing of the first interest rate increase since 2006. The Federal Open Market Committee is scheduled to gather on June 16-17.
Hiring has rebounded, Labor Department figures showed on June 5. Payrolls rose by 280,000 workers in May after a 221,000 gain the prior month. A rise in the number of people entering the labor force caused the unemployment rate to edge up to 5.5 percent. Hourly earnings climbed from a year ago by the most since August 2013.
Businesses are also putting up more help-wanted signs. Job openings rose above hires in April for the first time in records going back to December 2000, data showed this week.
Federal Reserve
Recent reports indicate the U.S. is emerging from a first-quarter slump. The economy expanded in the past two months, with four of 12 Fed districts reporting "moderate" growth and three others describing the expansion as "modest," according to the Beige Book released June 3.
Initial jobless claims reflect weekly firings, and a sustained low level of applications has typically coincided with faster job gains. In an environment of accelerating employment growth, many weekly layoffs may also reflect company- or industry-specific causes, such as cost-cutting or business restructuring, rather than underlying labor market trends.
Among businesses that are reducing headcounts is Peabody Energy Corp., the largest U.S. coal producer. The company plans to dismiss about 250 workers in coming months and close offices in Indiana and Wyoming amid falling demand and prices for the fossil fuel. Peabody said this week that the moves may help it save $40 million to $45 million annually.