Gusher of Iranian Oil Invoked In Push to End U.S. Export Ban
Jim Snyder and Brian Wingfield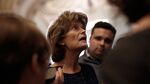 Oil producers pushing for an end to the U.S. crude export ban have a new line of attack: If Iran gets to sell oil in the world market, why can't we?
Should Iran strike a deal with the U.S. and five other nations in the coming weeks to limit its nuclear program, more Iranian oil could flow onto the market as sanctions are eased. Iranian producers will then be freer to sell oil than their American competitors, the argument goes.
"If Iranian oil sanctions are lifted, it, in my view, imposes sanctions on U.S. oil producers if we keep the oil export ban in place," Senator Lisa Murkowski, an Alaska Republican who's become the chief advocate for lifting limits, said Tuesday.
The oil companies in their lobbying have shifted their arguments to link exports to national security and U.S. geopolitical influence and are downplaying the effect on gasoline prices, the issue that's made some members of Congress wary.
World powers including Russia and the U.S. plan to complete talks with Iran by June 30 to end the decade-long impasse over its atomic program.
Momentum is building in Congress to lift the export restrictions, with Representative Joe Barton of Texas and Murkowski, both Republicans, gaining support for their bills to repeal the trade limits. Whether they can win enough votes to send a bill to the president this year is in question, and electoral politics in 2016 may complicate the debate.
'Seems Unlikely'
A complete end to the ban "seems unlikely before 2017," analysts from JPMorgan Chase & Co. said in a June 8 research note, after meetings in Washington.
Iran has at least 30 million barrels in storage that could be exported this year if sanctions are lifted, and it may add 500,000 barrels a day to global inventories by the end of next year, the U.S. Energy Information Administration estimates. The U.S. could export more than 1 million barrels a day if the ban were lifted, EIA administrator Adam Sieminski told a congressional committee in December.
Pioneer Natural Resources Co. Chief Executive Officer Scott Sheffield said U.S. supplies to global markets need to continue to grow as Iran, Iraq, Kuwait Saudi Arabia and the United Arab Emirates vie for market share.
Geopolitical Issues
"The world's going to become dependent on the Middle East again very significantly if we do not lift the oil-export ban," he said during a briefing this month with House Republicans. Sheffield questioned whether it's "fair" for Iran to be able to export crude while the U.S. has crude-export restrictions in place.
The effect on geopolitics of ending the ban needs more study, said Jay Hauck, a spokesman for a group of refiners, including Delta Air Lines Inc.'s subsidiary Monroe Energy LLC, that wants to keep the trade restrictions in place.
"Oil markets are incredibly complex," Hauck said by telephone. "It makes all the sense in the world to approach this more slowly than we're currently doing."
Oil producers have idled hundreds of U.S. rigs and slashed thousands of jobs in the past year to contend with falling prices in the world oil markets.
Now they are watching the June 30 deadline for a deal with Iran, which could ease the economic sanctions that have shriveled its oil exports for at least the past three years.
Russian Oil
"If the export ban is going to be lifted in whole or in part in the next 12 months, it's going to happen because of these national security arguments," said Jeff Navin, a former acting chief of staff at the Energy Department who is now consultant based in Washington. "The broader national security argument is predicated on the idea that countries putting their oil on the global market have an ability to influence the countries participating in those markets."
There's some question about how much influence the U.S. could have, however.
A Congressional Research Service report last month said refiners in Lithuania, Poland and other eastern European nations dependent on Russian oil may still buy it, if American crude costs more.
And U.S. crude isn't necessarily a substitute for Iranian oil. Iranian crude on average is heavier and more sulfuric than the U.S. version, Kevin Book, managing director at Washington-based ClearView Energy Partners LLC, said by e-mail.
Iran more likely would compete with Iraq and Saudi Arabia to serve Asia's demand for medium-grade crude, he said. By contrast, U.S. crude would probably find a home in Latin America, Europe and or at Asian refineries that can process the lighter variety.
Iran Output
Iranian oil would push down global prices. If U.S. producers are still captive to domestic demand, then the per-barrel price in the U.S. would drop, Book said.
"In other words, U.S. producers could take a bigger proportional hit on their selling prices than Iran," he said.
In late 2011, before the most recent round of international sanctions, Iran produced 3.6 million barrels of crude a day, according to the U.S. Energy Information Administration.
By early last year, Iran's daily exports fell to an average of 1.4 million barrels a day, with China and India among the buyers, according to EIA's latest data.
EIA forecasts U.S. crude production will average 9.4 million barrels a day in 2015.
Gas Prices
While several reports have said selling oil overseas could lower gas costs by increasing world supplies, which dictate American prices at the pump, it's been a tough sell to American consumers.
Lawmakers remain fearful they'd be blamed should prices rise, Murkowski, the chairman of the Senate Energy and Natural Resources Committee, has said.
Her staff released a report Tuesday that showed several European nations depend on Russia for oil. The report said such countries can seek a waiver of the U.S. export limits, and President Barack Obama can grant the request if he decides doing so is in the national interest.
Richard Nephew, director of economic statecraft, sanctions and energy markets at the Center on Global Energy Policy at Columbia University, said U.S. oil exports may be even more important if the nuclear deal fails, and the U.S. seeks to toughen sanctions against Iranian as a result.
U.S. Leverage
More American-produced oil would give the U.S. greater leverage to persuade other countries, including India and China, to shun Iranian oil, Nephew, a former principal deputy coordinator for sanctions policy for the State Department, said in an interview.
"You'd then want these U.S. barrels available," Nephew said. Lifting the export restrictions "would help us in our diplomacy."
U.S. crude exports also would give Asian markets greater choice in their oil supplies, said David Goldwyn, a former State Department special envoy for international energy affairs, said in an interview.
"When we participate in the market, we make it more competitive," he said.
(An earlier version of this story included an inaccurate description of a Senate Energy and Natural Resources Committee report on oil exports.)