Chris Christie Proposes Community Service, Income Pledges for Tuition
Terrence Dopp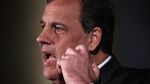 New Jersey Governor Chris Christie, in Iowa to speak about education, proposed allowing college students to receive grants in exchange for community service, and to pledge a portion of their future income in exchange for financing.
Christie, 52, a Republican hoping to be one of the 10 people who make the party's first presidential debate in August, also called for allowing corporations and individuals to make deductible contributions to private aid pools, according to an advanced copy of the speech.
"We need to have a bigger national conversation about how to innovate on student financing - and options like this should be on the table," Christie will say during the speech on his education policy at Iowa State University in Ames.
Christie has labored to make the cut for the debate in Cleveland, crisscrossing early voting New Hampshire and visiting other states to bolster a possible run. He's said he plans to decide this month whether he'll enter the race.
Education has proven a thorny issue for Christie, who initially supported the federal Common Core standards for public schools and in recent weeks has criticized the movement to standardize curriculum. Education is an issue that should be controlled at the local level, he's said, even as he cautioned parents not to let students skip the multi-state Partnership for Assessment of Readiness for College and Careers, or PARCC, until the first results come in.