politics
Bernie Sanders Eyes Top Tax Rate of More Than 50 Percent
On PBS' Charlie Rose, Democratic presidential candidate says he's raised more than $6 million in small bills.
By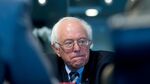 Democratic presidential candidate Bernie Sanders said  Thursday he supports raising the top marginal tax rate to "over 50 percent"—and increasing the corporate tax rate.
In an interview on PBS' Charlie Rose program, the Vermont senator, who is campaigning unabashedly on a platform of "redistribution of wealth" from the nation's highest earners to the "disappearing" middle class, revealed that he appears to be gaining traction with his ideas: Sanders said he's raised more than $6 million in small donations for his campaign so far and expects to cross the $10 million mark by June 30.
Sanders said he is "working right now on a comprehensive tax package, which I suspect will, for the top marginal rates, go over 50 percent," though he wouldn't endorse a specific rate yet. He often points out that the top marginal rate exceeded 90 percent under Republican President Dwight D. Eisenhower.
And while the White House and many Republicans want to lower the corporate tax rate, Sanders said he wants to raise it, as well as eliminate loopholes that allow corporate and wealthy taxpayers to reduce their tax bill.
"If you look at the collective percentage of revenue coming in from corporations today, it is significantly lower than it was back in the 1950s," he said. "I think it's about 10 percent today."
The self-described democratic socialist defended his plans to transfer wealth toward a middle class that has seen wages stagnate for more than a decade.
"In the last 30 years there has been a massive—we're talking about many trillions of dollars being redistributed from the middle class to the top one-tenth of 1 percent," he said. "It is time to redistribute money back to the working families of this country from the top one-tenth of of 1 percent. And tax policy is one of the ways we do that."
While Sanders said he would be "conservative" about committing U.S. troops abroad, noting that he—unlike Clinton—voted against the use of force in Iraq, he said he's uncertain whether President Barack Obama made the right decision in announcing this week he would send 450 U.S. advisers to help that country stop the incursion of the Islamic State. "I want to think about it. I haven't reached a conclusion yet," said Sanders, noting that Obama is trying to "thread a needle here.
"He does not want combat troops in the region; nor do I," Sanders said. "On the other hand, he wants to play a supportive role. Where the line is drawn, I'm not clear."
Sanders praised Pope Francis for his grasp of "the vulgarity of money" and his support for efforts to reduce global warming. And while he said he will not attack Hillary Clinton personally, he repeated his criticism of the Democratic front-runner for refusing to declare a position on the Trans Pacific Partnership trade deal and noted that her campaigns have "received a great deal of money from Wall Street." Sanders stopped short, however, of linking her to the banking deregulation signed into law by President Bill Clinton.
"I'm not blaming her for her husband," he said.
Sanders has, notably, drawn large and enthusiastic crowds in his recent visits to early primary states like Iowa and New Hampshire. He remains a long-shot for the Democratic nomination, acknowledging that Hillary Clinton is "far and away the leader in the polls" in the polls. "But I think we have the momentum," he said, adding:  "We're in this race to win."
The full Sanders interview airs tonight on the PBS Charlie Rose program and will be rebroadcast Friday on Bloomberg TV.
Before it's here, it's on the Bloomberg Terminal.
LEARN MORE