benchmark
Asia's Small Businesses Really Love WhatsApp
Small businesses in emerging Asia-Pacific economies are embracing cheap online tools faster than their peers in wealthier nations
By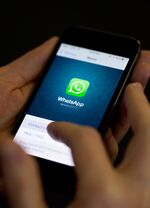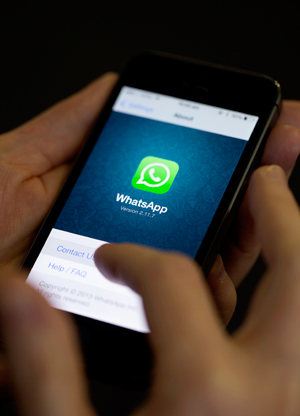 Businesses from Vietnam to the Philippines are turning small budgets and traffic jams to their advantage by harnessing employees' familiarity with online platforms to exploit the latest and cheapest technologies to boost productivity.
A Microsoft-backed survey found small and medium firms in emerging economies in the Asia Pacific embracing tools such as Skype, Dropbox and WhatsApp more readily than their peers in advanced nations. Vietnam and the Philippines topped the region in using four or five such online tools, including e-mail, social networking, file sharing, document collaboration and virtual meetings, according to the survey of 10 countries excluding China and India.
Of the 2,000 respondents from small and medium-sized businesses, about 80 percent from Vietnam and the Philippines said they used four or five of these tools, compared with 35 percent in Australia and 40 percent in Taiwan.

A company in Vietnam may use Microsoft-owned Skype for video conferences because it's cheaper and because their employees are already comfortable using it with their families, while a firm in Taiwan may stick to conventional calls because it's invested in a conference bridge or has security policies against using open networks, it said. Another reason could be the traffic gridlocks in cities such as Manila, Jakarta and Bangkok, which makes it imperative for employees to be able to work more easily on the go.
"It could be that it's the state of development of the country, it could be that certain countries have more norms for certain types of meetings than others,'' said James Eyring, chief operating officer of Singapore-based Organisation Solutions, which collaborated with Microsoft on the study. "They're much more flexible, and much more willing" to try and use new technologies in emerging economies, he said.
The survey was part of the New World of Work Index created by Microsoft this year, which surveys how much respondents feel their employers enable them to be productive, collaborative and innovative, while still ensuring their personal well-being. Indonesia and the Philippines topped the list, with Taiwan coming in last.

Simply being able to work on the go more easily doesn't mean productivity is automatically boosted as a result. Vietnam ranked 68 out of 144 countries in the World Economic Forum's Global Competitiveness Index for 2014-15, while Singapore placed second and Taiwan was 14th.
The other downside to using the same platforms for work and play: bosses are just a WhatsApp message or Skype call away.
For more on the global economy, check out Benchmark:
Before it's here, it's on the Bloomberg Terminal.
LEARN MORE