What Do the 1992 and 1984 Elections Teach Today's Democrats? Almost Nothing
The country has shifted dramatically over the past 30 years, making the lessons of past presidential contests less relevant.
By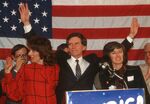 When it comes to workshopping a piece of writing, the most cutthroat MFA program has nothing on Twitter. Since Saturday, when the New York Times ran an A1 news analysis on Hillary Clinton following a "narrower path" to the presidency than her husband, reporters and pundits have ruthlessly clawed at its data and thesis. After National Journal's Ron Fournier spun off the piece to declare that Clinton was using "the wrong way to win the presidency," it was left to Jonathan Chait and a bunch of data journalists to point out Bill Clinton "ran a campaign aimed at different targets, which enjoyed the benefit of a center-right sprinter candidate," and that he did not, like Barack Obama, win a popular vote majority.
Yesterday, the Washington Post's Martin O'Malley reporter, John Wagner, ran a different kind of story, about the network the Democratic candidate had started building when he worked for Gary Hart's 1984 presidential campaign. "Like O'Malley, Hart was barely registering in the polls in the summer before the 1984 caucuses," wrote Wagner. "His scrappy, young campaign team nevertheless believed they could take on a commanding front-runner, Vice President Walter Mondale, by arguing that it was time for a new generation of leadership."
The central arguments in the stories in both the Times and the Post rely on an appeal to the past, and to tradition, as if it can still guide the Democratic primaries. Both are problematic for reasons explained in the New York Times story itself. Hillary Clinton's feint to the left is epitomized by "liberal positions on gay rights, immigration, criminal justice, voting rights and pay equity for women." All of those—depending on how the immigration question is asked—are now wedge issues that benefit liberals in key states. True, the "tough on crime" Bill Clinton who executed Ricky Ray Rector in advance of his 1992 campaign is hard to see in the Hillary Clinton who gives a speech on criminal justice reform. But the Nebraska of 1992 would not think of banning the death penalty, while the Nebraska of 2015 just did.
And the Democratic Party of 2015 is not the one that Gary Hart found ready for a challenge. The Democrats have not been losing presidential elections. When Hart challenged Mondale, the former vice president had been part of a ticket that forfeited 44 states to Ronald Reagan. The Democrats of 1984 had not won the megastates of California, Illinois, and New Jersey in 20 years; they had not won Michigan since 1968, and even that was enabled by George Wallace's independent campaign splitting conservative votes. In 1984 and 1988, the Democrats went on to lose all of those states.
Every one of those is now part of a safe bloc that guarantees 105 electoral votes to the Democratic presidential ticket. A skeptic could argue that Democrats just lost the 2014 elections, revealing softness that O'Malley could exploit. But look back at that list. In Illinois, Michigan, and New Jersey, the Democrats easily won Senate races; in California, for the second consecutive midterm, they won every statewide office. Democrats lost nine Senate seats in 2014, but only two of those losses—Iowa and Colorado—came in states won twice by Barack Obama.
That's an uncomfortable fact for red state Democrats, especially for West Virginia Senator Joe Manchin. He ruefully informed the Times that if Al Gore had won his state, he'd have won the presidential election. Manchin is one of his party's most charismatic politicians, but that shouldn't obscure the fact that the party's now stronger in presidential elections because it racks up wins with non-white voters and suburbanites and loses Appalachia.
In 2008, Clinton's landslide victory in West Virginia—she took every single county—amounted to 239,062 votes out of 356,790 cast. In 1984, Mondale won the West Virginia primary with a punier 198,776 votes, and that was from a total of 370,659. It's difficult for red state Democrats to consider that the party no longer relies on them for presidential races, just as it's difficult for California Republicans to have gone, in two generations, from a bulwark of conservatism to a place where Republicans come to raise money to compete in Ohio. But that's the country the parties now need to get elected in.