What Do the 1992 and 1984 Elections Teach Today's Democrats? Almost Nothing
The country has shifted dramatically over the past 30 years, making the lessons of past presidential contests less relevant.
By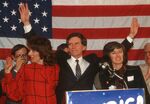 When it comes to workshopping a piece of writing, the most cutthroat MFA program has nothing on Twitter. Since Saturday, when the New York Times ran an A1 news analysis on Hillary Clinton following a "narrower path" to the presidency than her husband, reporters and pundits have ruthlessly clawed at its data and thesis. After National Journal's Ron Fournier spun off the piece to declare that Clinton was using "the wrong way to win the presidency," it was left to Jonathan Chait and a bunch of data journalists to point out Bill Clinton "ran a campaign aimed at different targets, which enjoyed the benefit of a center-right sprinter candidate," and that he did not, like Barack Obama, win a popular vote majority.