Tale of Sex, Drugs And a Rookie Lawmaker Grips Israel
In a blow to the coalition government of Benjamin Netanyahu, Oren Hazan stands accused of providing prostitutes and drugs to patrons of a Bulgarian casino that he managed.
By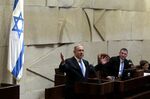 Facing allegations he ran a Bulgarian casino where he supplied drugs and prostitutes to customers, a rookie Israeli lawmaker has been suspended from duties in Israel's legislature, the Knesset.
The affair has riveted the country and damaged the new government of Prime Minister Benjamin Netanyahu, although Oren Hazan's suspension poses no immediate threat to its narrow coalition.
Parliament Speaker Yuli Edelstein said on Tuesday he was forced to suspend Hazan, a member of the governing Likud party, from his duties as deputy speaker, after Israel's Channel Two news broadcast allegations he had pimped and dealt drugs during a stint as a casino manager in the Bulgarian city of Burgas.
"I hope that he will clear himself of all suspicions, and will be happy to apologize to him," Edelstein wrote on his Facebook page. "But in the current public atmosphere, ethically—even if not criminally—there is no way he can run the Knesset."
Hazan, 33, denied any wrongdoing in a Facebook post, and threatened to sue Channel 2 unless they retracted their claims. He said he worked in Burgos managing a hotel near the casino, but was unable to provide its name when asked in an interview with Army Radio.
While the government holds a narrow one seat 61-59 majority in the Knesset, it takes 61 votes to pass a no-confidence motion to topple the coalition, neutralizing the threat that Hazan's absence from parliament could bring down Netanyahu.
"This certainly does tarnish the Likud's image, and how much so depends on how long it drags out and whether the allegations stand up," said Abraham Diskin, emeritus professor of political science at the Hebrew University of Jerusalem. Even if no legal charges are brought against Hazan, he will likely be pressured by the Likud to step down from parliament, Diskin said.
Hazan holds the 30th and last position in the Likud Knesset faction, and his ascension to parliament resulted from the party's unexpectedly strong showing in the March election. His father, Yehiel, also served one scandal-tarred term in parliament, having been caught by Knesset cameras in 2003 illegally double-voting, and later tampering with equipment in an effort to cover it up.
The Hazans courted more controversy during Oren's campaign in the Likud primary race last year, when they produced an Internet campaign commercial acting out a scene from The Godfather in which Yehiel, playing Marlon Brando's Don Corleone role, implores his son to run for parliament to clear the family name.