Obama's Iraq Strategy Rests on Winning Over Alienated Sunnis
David Lerman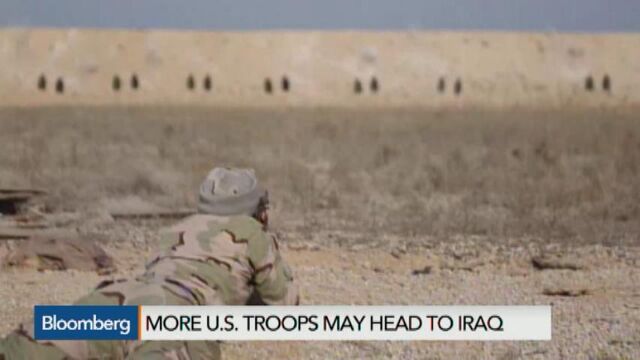 President Barack Obama's latest plan to counter Islamic State in Iraq relies on training and advising Sunni tribes to fight alongside a Shiite-led military in a fractured country.
Deeply ingrained sectarian tensions and doubts about U.S. resolve, as Obama sticks to his pledge to keep American troops out of combat, make that task a heavy lift.
"The patient may be too far gone to save it at this point," said Ali Khedery, who served as an adviser to five U.S. ambassadors and three heads of U.S. Central Command in Iraq from 2003 to 2010. "I just don't think they are going to do enough and do it quickly enough."
In a move announced Wednesday to beat back the threat in Anbar, Iraq's largest province, Obama approved sending as many as 450 more U.S. troops who will assist Iraqi forces at the Taqaddum military base in the province and work with local tribal fighters. Officials said the base, where the Iraqi military has its Anbar command center, will be used more to advise on operations than to provide basic training.
A year after the fall of Iraq's second largest city, Mosul, and Islamic State's declaration of a caliphate across parts of Iraq and Syria, the radical Sunni group has defied 10 months of U.S.-led airstrikes and remains on the offensive. Last month, it captured Ramadi, the capital of Anbar.
"We are hoping to get more of those Sunni tribes invested in the fight against ISIL, to have a great recruiting base for the effort against ISIL in Anbar province," Ben Rhodes, a deputy national security advisor, told reporters on a conference call. ISIL is an acronym for Islamic State.
Alienated Sunnis
But years of pent-up resentment and distrust among Sunni tribes toward both the Shiite-led government and the U.S. will be difficult to overcome, said Khedery, now chairman and chief executive officer of Dragoman Partners LLC in Dubai.
"When we came in in 2003, we alienated the ruling Sunnis," he said, after toppling Sunni strongman Saddam Hussein and disbanding the Iraqi army. While the U.S. later used diplomacy, cash and weapons to win their favor in what became known as the Sunni Awakening, former Prime Minister Nouri al-Maliki resisted efforts to reintegrate Sunni forces into the Shiite-led government.
Even today, under a more receptive prime minister, Haidar al-Abadi, legislation to create a National Guard that would incorporate Sunnis has been stalled for months with no sign of progress.
'Doesn't Add Up'
"The government in Baghdad is viewed by the Sunnis as Iranian clients, fairly or unfairly," Khedery said.
James Jeffrey, Obama's former ambassador to Iraq, said stepped-up training of local forces is unlikely to work without U.S. troops accompanying them in combat zones.
"This is disappointing if this is what he meant by a new strategy," said Jeffrey, who served as ambassador from 2010 to 2012 and is now at the Washington Institute for Near East Policy. "It doesn't add up to anything. Have you seen combat effects of any of the training we've done up to now? I haven't."
While the U.S. has trained more than 8,000 Iraqi forces, with an additional 3,000 in the pipeline, none were used in the defense of Ramadi. Taqaddum, which lies between Fallujah and Ramadi, two cities controlled by Islamic State, will become the fifth location for U.S. training in Iraq.
'Lily Pads'
Brett McGurk, the deputy special presidential envoy for the anti-Islamic State campaign, said U.S. advisers at Taqaddum will "greatly improve our ability to turn around airstrikes on a pretty fast clip when we are directly advising and assisting Iraqi units in those areas and also the associated tribal fighters who will be with them."
Army General Martin Dempsey, chairman of the Joint Chiefs of Staff, said on Thursday that if the base at Taqaddum is successful, the U.S. could set up more such outposts that he likened to lily pads in a pond.
"Our campaign is built on establishing these 'lily pads' that allow us to encourage the Iraqi security forces forward," Dempsey said in Naples, Italy, according to a Defense Department summary. "As they go forward, they may exceed the reach of the particular lily pad."
While additional sites may require hundreds more U.S. troops on the ground, Army Colonel Steve Warren, a Pentagon spokesman, said no decisions have been made and some sites could operate with personnel already in Iraq.
"We are actively considering where we can open up, establish other lily pads," Warren said. "Our thought process will be informed by what happens at Taqaddum."
'Flawed' Strategy
Representative Adam Smith of Washington state, the top Democrat on the House Armed Services Committee, said Obama's approach is unlikely to succeed.
"The Sunnis in Iraq will not fight for the Baghdad government -- for good reason," Smith said at a breakfast Thursday with Bloomberg reporters and editors. "They do not feel included in that government. I don't see that changing."
While Smith said Obama's strategy is "flawed just because of what happened with the Iraqi government," he also said he opposes sending thousands of U.S. troops to fight in Iraq, which Republicans such as Senator John McCain have endorsed. "Making this a U.S. war in a Muslim part of the world only empowers ISIL," Smith said.
Barring Combat
The new deployment brings to about 3,550 the number of U.S. military personnel in Iraq, while continuing to bar them from engaging in combat or accompanying forces as forward spotters who could better identify targets for airstrikes.
"There's a psychological factor here" on Iraqi forces, Jeffrey said. "We're basically saying this isn't our fight."
Some defense, intelligence and State Department officials had favored sending more trainers to Iraq and some lobbied for a limited number of forward spotters, but their efforts met resistance from Obama's inner circle, according to military and intelligence officials who spoke on condition of anonymity to discuss private deliberations.
Carter Rebuffed
Eventually, they said, Defense Secretary Ashton Carter and General Dempsey proposed sending 500 to 1,500 additional trainers, but the White House agreed to only 450, a move one official compared to the White House decision to limit the size and duration of the 2009 surge of additional U.S. forces in Afghanistan.
Some officials said they were skeptical that a small increase in the number of U.S. trainers can turn the tide against Islamic State, especially if they are kept miles from combat.
In addition to more trainers and advisers, the U.S. will attempt to speed the delivery of military equipment to Iraqi security forces as well as to Kurdish peshmerga militia and tribal fighters serving under Iraqi government command, White House Press Secretary Josh Earnest said in a statement. He provided no details on the equipment.