Ex-Im Bank Reauthorization Gets Support in U.S. Senate Test
Kathleen Miller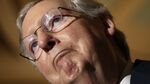 The U.S. Senate showed strong support for reauthorizing the Export-Import Bank in a test vote bolstering backers' argument that a majority of Congress wants to keep its charter from expiring at the end of this month.
The 31-65 vote Wednesday sought to keep alive a proposed amendment to extend the bank's charter.
Bank proponents have maintained the Senate and the House of Representatives would reauthorize the bank if they were allowed to vote on the issue. They don't have a promise of floor votes before June 30, though, which makes it likely the bank's charter will lapse and it will be unable to approve financing for new projects.
"When you get this kind of support, almost veto-proof support, from the United States Senate, maybe you ought to move a bill," Senator Heidi Heitkamp, a North Dakota Democrat and bank supporter, said on the Senate floor after the vote.
Wednesday's vote was intended to be only a preliminary skirmish over the 81-year-old bank. Senator Kelly Ayotte, a New Hampshire Republican who offered the amendment to reauthorize the bank on behalf of Illinois Republican Mark Kirk, withdrew it after the vote.
Ex-Im provides loans, loan guarantees and insurance to facilitate overseas sales by U.S. companies.
Senator Lindsey Graham, a South Carolina Republican, said Ex-Im supporters were trying to find "a must-pass piece of legislation to keep the bank afloat."
Signal to Markets
"This will be a signal to the markets that the Senate is in support of the bank," Graham said before the vote. "This is not the last vote we'll take on Ex-Im Bank."
It's unclear how supporters would find a way to move the legislation forward.
Senate Banking Committee Chairman Richard Shelby, an Alabama Republican, has said he won't allow his panel, which oversees the bank, to consider legislation to extend its charter.
Prior to the vote, he urged senators to table the amendment and thereby delay the effort to extend Ex-Im's charter.
"There is no compelling case to reauthorize the bank," Shelby said. "After years it has become clear to me that its problems are beyond repair and that the bank's expiration is in the best interest of American taxpayers."
Majority Leader
Wednesday's vote fulfills a commitment Senate Majority Leader Mitch McConnell made to several Ex-Im supporters last month to allow a vote in June on the bank's reauthorization, said McConnell spokesman Don Stewart.
Twenty Republicans sided with Democrats in supporting the bank, including Kirk, Ayotte, John McCain of Arizona and Rob Portman of Ohio. Senator Bernie Sanders, a Vermont independent who caucuses with the Democrats, voted with 30 Republicans who wanted to table consideration of the amendment to reauthorize Ex-Im.
Once renewed regularly without controversy, Ex-Im has become a target of conservative Republicans who say it benefits only a few large corporations that don't need government assistance.
Boeing Co. is by far the bank's biggest beneficiary: its customers received more than $7 billion of the $10.8 billion in long-term guarantees Ex-Im issued last year.
Bank advocates say an expiration of Ex-Im's charter would hamstring small businesses. They say that once the charter lapses, U.S. exporters might permanently lose customers who turn to rivals in other countries with export credit agencies.