White House Responds to McKinney Pool Party Video
Press secretary Josh Earnest said that incidents like the one that transpired on Saturday in Texas can have a "detrimental impact" to race relations.
By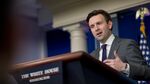 The White House on Tuesday backed the suspension of the police officer filmed pulling a gun on black teenagers who had attended a pool party in McKinney, Texas, calling the decision "prudent." 
"Early indications are that local authorities have taken what appear to be appropriate steps. They have placed that officer on leave," White House press secretary Josh Earnest said during his daily briefing. "That seems like a prudent thing for them to do… but ultimately what steps they need to take and what the investigation yields about what exactly happened there is still something that's going to take a few more days at least to determine."
Earnest said that the president learned about Saturday's incident when he was in Germany for the G7 Summit. Obama has yet to comment directly on the widely criticized actions of Cpl. David Eric Casebolt, who threw a bikini-clad teenage girl to the ground, and drew his firearm at other unarmed teens. 
"Understandably, graphic incidents like the one that we saw depicted on that video do have a detrimental impact on the relationship between local law enforcement and the local community," Earnest told reporters. 
A seven-minute video of the altercation went viral over the weekend, and protests have gained steam over the past two days. The White House was careful to emphasize the need not to vilify all law enforcement officers as a result of the latest video. 
"There's a strong benefit to police forces working effectively to build the trust and confidence of the communities that they're sworn to serve and protect," he said.