Appetite for Treasuries Wanes as Traders Push Up Auction Yields
Susanne Walker Barton and Daniel Kruger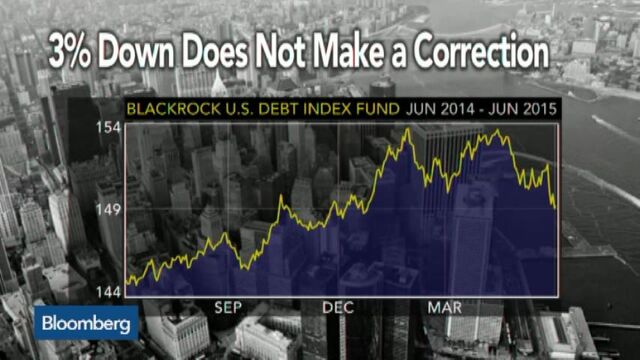 The U.S. Treasury is facing its biggest test of demand in months during this week's debt auctions as investor expectations for higher interest rates rise.
Investors demanded the highest yields in four years on $24 billion in three-year notes auctioned Tuesday. The issue, the first of three over the next two days of $58 billion in notes and bonds, comes as traders price in a higher probability of the Federal Reserve boosting its target borrowing rate as soon as September.
"People are thinking the selloff is not over and better levels are ahead," said Stanley Sun, a New York-based strategist at Nomura Holdings Inc., one of 22 primary dealers that are obligated to bid at the auctions. "The recent volatility and the bearish momentum is keeping some investors on the fence."
Across all maturities, the Treasury has received 2.85 times in bids the $913 billion in notes and bonds it has auctioned this year. That compares with a 2.98 bid-to-cover ratio for the $2.2 trillion sold in 2014, according to Treasury data compiled by Bloomberg. Demand hit a record in 2012.
The 10-year U.S. note yield rose six basis points, or 0.06 percent, to 2.44 percent, after reaching 2.45 percent, the highest since Sept. 30. The benchmark 2.125 percent note due May 2025 fell 15/32, or $4.69 per $1,000 face amount, to 97 1/4, at 5 p.m. in New York, according to Bloomberg Bond Trader prices.
High Yield
"As quick as we went back to 2.40 percent" on 10-year notes, "there's no doubt that we could go higher," said Justin Lederer, an interest-rate strategist at Cantor Fitzgerald LP in New York, a primary dealer. I don't think many people thought we'd see the 2.40 level so quick.''
The three-year notes were sold at a yield of 1.125 percent, the highest since April 2011. Investors bid for 3.33 times the amount offered, compared with 3.34 at the May sale when the security drew a yield of 1 percent.
"We're looking to the auctions as a bellwether of broader demand," said Ian Lyngen, a government bond strategist at CRT Capital Group LLC in Stamford, Connecticut.
Indirect bidders, a class of investors that includes foreign central banks, bought 50.7 percent of the notes. The average at the previous 10 sales was 43.3 percent.
Direct bidders, non-primary-dealer investors that place their bids with the Treasury, purchased 9.7 percent of the notes versus an average of 13.5 percent at the previous 10.
European Debt
The rise in yields comes amid a renewed selloff in German government bonds and elevated issuance of corporate debt.
"Part of it is clearly a concession for the corporate and government supply that's coming," said Donald Ellenberger, who oversees about $10 billion as head of multi-sector strategies at Federated Investors in Pittsburgh. "Part of it is looking at what's happening in Germany."
Investors speculate the Fed will raise rates this year after a stronger-than-expected jobs report last week. Buyers have balked at record-low yields in Europe and the U.S., betting the worst of the global economic contraction has passed and wiping out 2015 bond gains.
The U.S. will also auction $21 billion 10-year notes on Wednesday and $13 billion 30-year bonds the following day. In when-issued trading, the 10-year yield climbed to 2.45 percent, the highest since September.