U.S. Stocks Close Little Changed as Banks Gain, Airlines Slide
Oliver Renick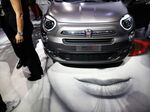 U.S. stocks were little changed, after equities reached a two-month low, as banks rallied amid higher bond yields while airlines weighed on transportation shares and technology companies slipped.
Bank of America Corp. and Wells Fargo & Co. rose at least 1 percent. Procter & Gamble Co. gained 1.5 percent to lead consumer staples higher. Southwest Airlines Co. slumped amid concern that the domestic travel market is weakening. Technology shares fell for a fourth day, the longest stretch in three months.
The Standard & Poor's 500 Index rose less than 0.1 percent to 2,080.15 at 4 p.m. in New York, and snapped a three-day losing streak. The index is down 2.4 percent since it last closed at a record on May 21. The Dow Jones Industrial Average slipped 2.51 points, or less than 0.1 percent, to 17,764.04. The Nasdaq Composite Index fell 0.2 percent.
"Equities are struggling to maintain their swagger, and it appears we're transitioning to a wait-and-see mode as investors look forward to the dog days of summer, second-quarter earnings and the Fed raising rates," said Terry Sandven, who helps oversee $126 billion as chief equity strategist at U.S. Bank Wealth Management in Minneapolis. "We're likely to trend sideways based on complacency and uncertainty."
Reports on consumer sentiment and retail sales are due this week, both of which are forecast to show an improving economy. Jobs data last week showed the strongest hiring in five months and the biggest wage gains in two years, bolstering bets the Federal Reserve will raise interest rates this year.
Volatility, Breadth
Investors are also looking for signs of progress in Greece's debt talks. The country submitted fresh proposals to its creditors in a bid to unlock bailout funds with just three weeks to go before its financial safety net expires. Greece last week rejected a set of policy measures hammered out by creditor institutions, while creditors rebuffed a separate plan put forward by Greece.
A gauge of stock volatility has been steadily rising, closing at the highest level in more than two months on Monday. The Chicago Board Options Exchange Volatility Index had jumped 26 percent through Monday since this year's low in May, and is trading above its average level for the past 12 months. The gauge, known as the VIX, fell 5.4 percent Tuesday to 14.47.
Just as U.S. stocks threaten to give up their gains for the year, an indicator measuring how many companies are keeping the stock market aloft fell to its lowest level in eight months. So few shares have been left behind in the bull market that chart analysts view any sign that breadth is breaking down with concern.
P&G Rises
"It's like we're all waiting for a catalyst but we don't really know where to look," said Richard Hunter, head of equities at Hargreaves Lansdown Plc in London. "Everyone's trying to double guess when the Fed's interest-rate hike will be and mixed data has not really made it too clear. You could buy on dips given the recent selloff, but you can also come up with a bunch of reasons not to invest."
Five of the S&P 500's 10 main groups advanced, led by consumer staples, financial and raw-material companies. Technology and phone companies fell the most. About 5.9 billion shares traded hands on U.S. exchanges, 7.4 percent below the three-month average.
Procter & Gamble rallied 1.5 percent, the most since March, to boost consumer staples. Walgreens Boots Alliance Inc. and Colgate-Palmolive Co. climbed more than 1 percent.
Banks Climb
The KBW Bank Index added 0.9 percent, with KeyCorp and SunTrust Banks Inc. rising more than 1.3 percent. KeyCorp gained for a third day to its highest since June 2008. Insurers joined banks in advancing with Treasury yields. Lincoln National Corp. and American International Group Inc. gained 0.8 percent.
Netflix Inc. increased 3.2 percent to an all-time high, amid speculation that the company may announce a stock split at its annual meeting tonight.
H&R Block Inc., the biggest U.S. tax preparer, rose 2.3 percent as revenue climbed for a third straight year in fiscal 2015 driven by price increases and stronger sales of do-it-yourself tax-preparation products.
Airlines Slump
A Bloomberg index of U.S. airlines retreated 0.7 percent, after paring an earlier 4.2 percent slide. It was the group's sixth consecutive drop, the longest losing streak since October. Southwest Airlines and Alaska Air Group Inc. tumbled more than 3 percent. JetBlue Airways Corp. slid 0.7 percent to a two-month low.
The Dow Jones Transportation Average briefly fell more than 10 percent Monday from its most recent high, temporarily meeting the common definition of a correction, before trimming its drop.
Akamai Technologies Inc. fell 2.7 percent, its biggest retreat in more than two months, after Macquarie Securities USA Inc. downgraded the shares to neutral from outperform. Micron Technology Inc. lost 2.8 percent, while Apple Inc. slipped 0.3 percent after erasing an earlier 1.7 percent drop.