Rubio Campaign Goes After New York Times Article on His Personal Finances
The story raised questions about the young Republican presidential candidate's financial management.
By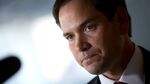 If going to war with the New York Times is a rite of passage for Republican presidential candidates, Marco Rubio's moment has come early.
The Florida senator's campaign pushed back Tuesday against a Times article detailing his personal financial woes dating to his late 20s, when the charismatic and hard-charging son of a bartender and hotel maid was first elected to the statehouse. The story tracked his spending and ongoing debt despite occasional bursts of high earnings from book sales and working as a lawyer; the unorthodox structure of his political committees in prior campaigns; and his past clashes with campaign finance law that he acknowledged and quickly worked to resolve.
The Times article painted a picture of a rising political star who has not only struggled financially but made "imprudent" decisions due to "a penchant to spend heavily" on items such as an $80,000 luxury speedboat. The newspaper reported that he recently cashed in a $68,000 retirement account, and more notably had to reimburse the Republican Party of Florida after putting some personal expenses on its credit card around the time of his long-shot 2010 Senate campaign.
To the Rubio campaign, this was an arrogant attack on a self-made man who came from modest means. The campaign titled an e-mailed statement to reporters on Tuesday "Elitist New York Times calls Marco's Student Loan Debts 'A Deep Financial Hole of his Own Making.'" Various conservatives unaffiliated with his campaign backed him up. 
Rubio, 44, has paid off $150,000 in student loans, his campaign said. His expenses include raising a family of four children with less-than-lavish salaries as a political officeholder, particularly one laying the groundwork for higher office in a populous state like Florida. Rubio currently has "a single debt, the mortgage on his home," his campaign said, and has set up college savings accounts for each of his children, whom he sends to private Christian schools.
"The attack from The Times is just the latest in their continued hits against Marco and his family," Rubio campaign spokesman Alex Conant said in the statement. "What The Times misses is that getting rich is not what has driven Senator Rubio's financial decisions." Rather, Rubio's goal is to provide for his family, Conant said.
Rubio is hardly the only presidential candidate whose pocketbook has come under scrutiny. Democratic front-runner Hillary Clinton and her family's complex financial arrangements are a persistent theme in media coverage of her 2016 aspirations. As Times reporter Michael Barbaro, a co-author of the Rubio story, noted, the newspaper also examined 2012 GOP nominee Mitt Romney's "frugal and careful" approach to money.
For Rubio, the perceived attack may end up working in his favor in the competitive Republican presidential primary. The Times story landed as his team was fresh off a weekend of fundraising over another (widely panned) article about the candidate and his wife Jeannette's traffic tickets in the Miami area over the last two decades. "First The New York Times attacked Marco over traffic tickets," Conant said, "and now they think he doesn't have enough money." As House Republican aide Brendan Buck tweeted: