business
No Easy Fix for Cryan at Deutsche Bank Once Applause Dies Down
Elena Logutenkova
John Cryan helped resuscitate UBS AG as finance chief after its state bailout. In leading Deutsche Bank AG, he may face an even tougher challenge.
Cryan's first task after taking the helm on July 1 will be to win back investor trust, eroded by years of missed targets, legal entanglements and low returns for shareholders. Down the road, he'll have to rethink the business model, a task that's more complicated at Deutsche Bank because it lacks the giant and profitable wealth management business that buttressed UBS.
Instead, Deutsche Bank has tried to maintain a fully fledged investment bank, including a markets division dogged by a trading slump and stiffening capital requirements. A proposed strategy overhaul unveiled in April -- trimming those operations while selling most of the Postbank consumer unit -- was criticized by investors as too little, too vague and too late.
"Deutsche Bank has many deeply ingrained problems," said Guy de Blonay, who manages financial stocks at Jupiter Asset Management Ltd. in London. "There are few easy fixes available to management. He offers a fresh start."
Cryan, 54, replaces Anshu Jain as co-chief executive officer at the end of this month and will become sole CEO when Juergen Fitschen steps down next May. Investors cheered after the plan was announced, driving the stock up 3.6 percent on Monday, the biggest gain in almost six months.
Shrinking UBS
At UBS, Cryan helped slash assets and jobs, whittling Switzerland's largest bank down to its strongest businesses. The toughest part of his new assignment, and the one he's got the least experience with, is formulating a long-term vision for increasing profitability and leading Deutsche Bank's 98,000-plus employees.

In the wake of 2008's financial crisis, Deutsche Bank has clung to its status as Europe's dominant investment bank -- waiting across the Atlantic from Goldman Sachs Group Inc. and JPMorgan Chase & Co. to build market share as new regulations force other weakened rivals to retrench. That's proving difficult: Goldman Sachs has outperformed Deutsche Bank in recent years, while JPMorgan's other big divisions have helped push its profits to records. And unlike Swiss asset-management powerhouses UBS and Credit Suisse Group AG, Deutsche Bank doesn't have a strong alternative business to fall back on.
"The basic difficulty is the absence of a high return-on-equity platform," Goldman Sachs analysts, led by Jernej Omahen, wrote in a note. "As CEO, John Cryan will therefore inherit the central strategic dilemma –- either attempt to concentrate the strategy around the highest ROE investment-bank operations, or, change the portfolio of businesses" through acquisitions.
'Deliver Now'
The clock is already running on restoring investors' faith. The bank has said it would explain by the end of July how it intends to trim 3.5 billion euros ($3.9 billion) in annual expenses over five years as part of the strategic review laid out in April. That sets a deadline for Cryan to show he's a more determined cost-cutter than his predecessors, who missed their earlier savings goals.
"He needs to deliver now, within the next six weeks," Hans-Christoph Hirt, executive director at Hermes EOS, which represents institutional investors, said in an interview on Bloomberg Television. "He has a very good track record from UBS in delivering very similar changes."
Deutsche Bank's strategy from April includes trimming assets at the investment bank by 150 billion euros, retreating from as many as 10 of the 70 countries where it operates and closing up to 200 branches. The goal is to boost return on tangible equity, a measure of profitability, to at least 10 percent from 3.9 percent in the first quarter.
Numbers Man
At UBS, Cryan helped cut assets at the investment bank by 738 billion francs ($791 billion), or 45 percent, and reduce total annual costs by more than 6 billion francs, or 21 percent.
"He is brilliant with numbers," said Oswald Gruebel, the former CEO of UBS, who worked with Cryan for more than two years. "He can cut costs, cut leverage, increase capital -- no question about it. And he's very good with analysts and investors."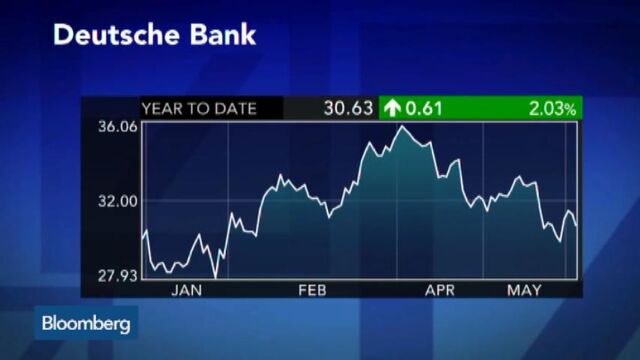 Deutsche Bank's stock was the worst performer among global peers during Jain and Fitschen's three-year tenure. At a shareholder meeting last month, the pair got the lowest approval in at least a decade, with nearly four of every 10 investor votes declining to back management. Attendees questioned their ability to meet the goals laid out in the new plan.
'Head On'
Jain also drew criticism as the former head of the investment bank for legal misconduct that happened on his watch. Deutsche Bank in April was ordered to pay a record $2.5 billion fine and fire seven employees to settle U.S. and U.K. investigations into its role in rigging the London interbank offered rate. Jain wasn't accused of wrongdoing.
Cryan's to-do list will feature yet more inquiries. The firm's outstanding legal challenges include probes into the rigging of benchmark foreign-exchange rates, as well as investigations into mortgage- and asset-backed securities dealings and compliance with U.S. sanctions.
"John saw at UBS how important it is to tackle legal risks head on," said Peter Kurer, the former chairman of the Swiss bank. "He will actively influence the way Deutsche Bank deals with litigation."
Cryan will probably tackle Deutsche Bank's numerous challenges "bit by bit," said Christopher Wheeler, an analyst at Atlantic Equities LLP in London.
"He is not the sort of guy like Anshu Jain, who was very charismatic and would walk out onto trading floor, tell the team what's going on and get a round of applause," Wheeler said in an interview on Bloomberg Television. "John is much more measured. It will take a long time."
Read this next:
Before it's here, it's on the Bloomberg Terminal.
LEARN MORE