Photographer: Waldo Swiegers/Bloomberg
Chinese Solar Billionaire Remains an Enigma After 47% Plunge
Aibing Guo and Stephen Engle
In the early stages of Hanergy Thin Film Power Group Ltd.'s tumultuous ride to the top of the global solar industry, Chairman Li Hejun spoke of changing the world with a vision imbued by magic.
Certainly, an air of mystery exists around his life story, not to mention the other-worldly 47 percent plunge in his company's stock on May 20 and the absence of any explanation since. Known best as a solar operator and advocate, Li built his fortune by securing private ownership of hydroelectric assets, including a power station one-third larger than the Hoover Dam in the U.S.
In large measure, Li's reputation as a corporate conjurer is based on the 400 percent run-up in the stock price of Hanergy Holding Group Ltd.'s Hong Kong-listed unit in late 2014 and early 2015, which pushed its market value to seven times its nearest competitor, First Solar Inc. of Tempe, Arizona. But it was far from the first time he had defied the odds.
"I always believe that when you are doing something with a sense of mission, then God or heaven will empower you with magic, and you can get everything right and do everything with good luck," Li said in a 2014 interview with Bloomberg Television.
The 47-year-old's only comments on his stock's spectacular descent last month occurred in the controlled circumstances of a statement issued through Hanergy's website and in a videotaped interview with China's state-run Xinhua news agency, in which he described the company as being in "its best shape since it started."

Entrepreneurial Push
A man of few words and less explanation, most of what's known about Li comes courtesy of occasional interviews with Chinese newspapers and a 2013 book he penned on China's solar industry that barely touches on his background.
In February 2014, Li did consent to a 90-minute Bloomberg Television interview about his recently acquired billionaire status. The interview stands as one of the few instances of independent questioning as to how he built his fortune.
Combined with the Chinese media reports, the picture that emerges is of a determined entrepreneur often in the right place at the right time and with a gift for seizing the moment, most notably with the foundation of his empire -- those hydro holdings in the area in southern China where he grew up.
"I've always tried to keep a low profile, as I don't want people to talk about me," Li said in the Bloomberg Television interview. "I want people to talk about new energy and how China can lead in the new energy revolution."
Regulatory Probe
That low profile is a distant dream, after Hong Kong's markets regulator confirmed it's investigating Hanergy Thin Film in the wake of the stock's suspension and criticism about the company's business model, valuation and stock trading by analysts and media, including the Financial Times.
Li was born in 1967 in a small village about 20 kilometers (12 miles) from Heyuan, a city in the Chinese province of Guangdong, putting him in China's most dynamic region at the time its modernization reforms were taking off.
By the mid-1980s, he had made his way to Beijing, graduating from Jiaotong University at 21 with a degree in mechanical engineering. He showed his early business prowess by organizing 30 of his classmates into a sales force peddling camera film in front of the university's dining hall.
More astoundingly, Li recounted in interviews with Chinese media and Bloomberg Television that he had received a 50,000 yuan ($8,000) loan from a college professor -- a fabulous amount of money at a time when government employees were earning about 100 yuan a month -- to start a business with partners selling toys and electronic devices in Beijing's tech hub of Zhongguancun.
'Lucky Guy'
"I'm just one of those lucky guys getting rich by trading whatever," he told Bloomberg Television.

According to Hanergy's website, the chairman was lucky enough to have amassed an 80 million yuan ($13 million) nest egg from these business dealings within six years.
If the professor's loan provided the basis of Li's later fortune, neither he nor Beijing Jiaotong University is bragging. When contacted, the university referred inquiries back to Li and Hanergy.
The next step would take him into clean energy. In the mid-1990s, a time of rapid growth in electricity demand in China, a former middle-school classmate asked Li to check out a hydropower project back in Heyuan. Li marveled at the ability of a utility to provide steady returns.
Energy Needs
Fortunately for him, the state-owned power generators weren't interested in the needs of local governments. The hydro visit would prove his epiphany as he took control of the 1,500-kilowatt station in 1994 and added smaller assets over the following decade.
"I had to develop the ability to deal both with villagers at the bottom all the way up to Chinese Premier Wen Jiabao at the highest level," Li told Bloomberg Television.
In 2002, Li signed contracts to build six hydro projects along the Jinsha River -- a deal worth more than 75 billion yuan. The contracts stood out because Hanergy, a private company, was judged by the National Development and Reform Commission, China's economic planner, to lack resources and experience for such large developments, Li told Bloomberg Television.
The local government in Yunnan province decided to change course and award the contract to several state-owned companies. He sued and ultimately secured the rights to one of the projects -- the Jinanqiao hydropower station in southwestern China, situated in the middle of the Jinsha River and designed to provide electricity directly to the rich and populous nearby province of Guangdong.
'Nasty Measures'
In March 2011, after nine years of negotiation, legal maneuvering and construction, the facility was finally connected to the grid, according to Hanergy's website.
It was an unpleasant process, Li recounted to Bloomberg Television, saying "all the nasty measures you can imagine" were used by his competitors to get his company kicked out of the area.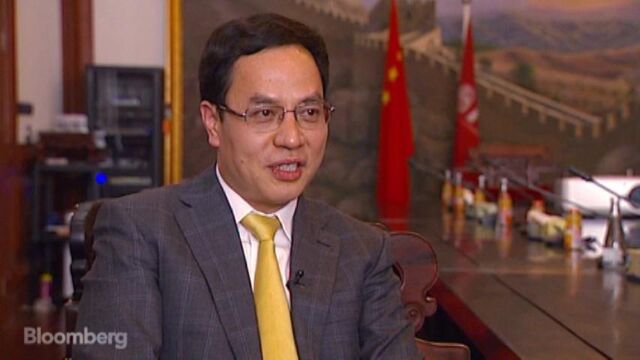 A fax sent to the news department of the Yunnan Provincial Development and Reform Commission seeking comment wasn't immediately answered.
The saga became an important part of Li's narrative of the perseverance of his private company against the established powers. "Eight years of training, learning, suffering should be enough to make a man or a company," he said in a commencement address at Beijing Jiaotong University in 2014. "Hanergy spent eight years to secure its Jinanqiao hydropower project in Yunnan."
Shopping Spree
Today, according to Li, the Jinanqiao power station generates about 10 million yuan a day in cash, or almost $600 million a year. It would finance his entry into solar as he went on a shopping spree, snapping up makers of thin-film solar products in the U.S. and elsewhere.
"When venturing into hydroelectric plants, everyone laughed at me," Li said in March when interviewed on the sidelines of the Chinese People's Political Consultative Congress, an annual meeting of advisers to the national government that includes public and private business owners.
"No one believed a private company can do the big things that we've done," Li said. "People with great causes are always questioned by others."
As Li applied the cash flow from the hydro projects to buy up solar equipment makers, he began to mold a new persona as a transformative business visionary. He published his book -- a manifesto of sorts calling for an energy revolution built on solar power -- and joined charities and government advisory boards.
Corporate Headquarters
Li even became a direct beneficiary of government backing. Hanergy's Hong Kong unit, Hanergy Thin Film, rode a wave of government subsidies and support from state-connected lenders as it grew from a bit player into the world's largest solar company by market value.
Hanergy's good fortune seemed to know no bounds. It enjoyed the privilege of a corporate headquarters in the area of the Beijing Olympics park and in May opened an exhibition center at its north end.
But doubts were beginning to gather as its shares soared, making Hanergy the best performing stock on the NYSE Bloomberg Global Solar Energy Index. In a December research note, Charles Yonts, an analyst at CLSA Asia-Pacific Markets in Hong Kong, questioned Hanergy Thin Film's value given that the bulk of sales were made within the group itself. Yonts wrote a second report on Hanergy on Feb. 27. Yonts wasn't immediately available for further comment.
Trading Patterns
On March 6, Jenny Chase, Bloomberg New Energy Finance's lead solar industry analyst, concluded Hanergy was working with "unproven" technology and that it hadn't detailed the solar project installations that would help justify its valuation.
In response to these challenges and a report in the Financial Times newspaper on unusual trading patterns in the company's stock, Hanergy released a statement through the Hong Kong Stock Exchange on March 25 denying any misconduct or manipulation of the shares either by the company or Li.
Then, on May 20, came the crash. As Hanergy Thin Film's shareholders met in Hong Kong for the company's annual meeting, Li was instead attending a clean energy exhibit in Beijing. The shares began falling -- rapidly. Within half an hour, the value of Hanergy Thin Film collapsed by almost half to $21 billion.
Shares Suspended
The shares were suspended at Hanergy's request and can't resume trading again until the company issues a statement explaining to regulators why it asked for the halt.

Just as the surge in Hanergy's shares left analysts and investors questioning the gains, the trigger for the collapse has also been greeted with head scratching.
"There are some real solar technologies and businesses within the Hanergy empire - Alta Devices, Solibro, Hanergy Solar UK (formerly Engensa)," New Energy Finance's Chase wrote in an e-mail. "Whether they can survive being mixed up with the rollercoaster stock remains unclear."
On May 28, Li, who owned Hanergy stock worth at least $15.3 billion at the time of the suspension, popped up for the first time since the crash, telling Xinhua in the video interview that the company's plants were in full production and dismissing as speculation reports it was under investigation.
Regulator Responds
Hong Kong's markets regulator released a statement shortly after Li's interview to say that a formal investigation into Hanergy Thin Film's affairs has been active and is continuing. Though the regulator rarely reveals ongoing investigations, the Securities and Futures Commission said it released the statement "given the public interest following reports denying such measures have been taken."
Since the regulator's announcement, Li has been spotted in Hong Kong, though he has made no further public comments. Hanergy's Hong Kong office has declined to comment on Li's whereabouts.
Meanwhile, Hanergy has pledged ownership stakes in the Jinanqiao project to four trust companies, a guarantee company and a subsidiary of Harvest Fund Management in exchange for credit, according to the corporate filings of Jinanqiao Hydro Power Station Ltd., which is registered in Lijiang, Yunnan province.
"You have to know what you can do and what not. Never touch something that's beyond your reach," Li cautioned the graduates during that June 2014 commencement address at his alma mater, Beijing Jiaotong University. "You have to achieve a balance on everything you do and try to avoid going to extremes."