Kellogg Said to Plan Snack Subscriptions as General Mills Exits
Duane D. Stanford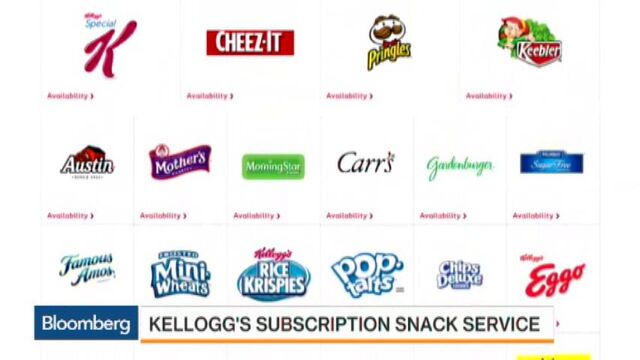 Kellogg Co. is looking to start a subscription snack service, according to two people familiar with the matter, entering the space just as General Mills Inc. ends its experiment with Netflix-like noshing.
Kellogg has assembled a team and invested capital to create the direct-to-consumer food business, said the people, who asked not to be identified because the plans aren't public.
General Mills discontinued its Nibblr subscription snack offering last week after about a year and a half, shipping its last boxes on June 5 and saying goodbye to customers on its website. The service was run by the company's 301 Inc. unit, which incubates projects outside core products like Cheerios.
"We recently completed a large-scale test with Nibblr," said Brian Tockman, marketing manager for 301. "The project provided great learning for our organization, and we chose to focus our resources on other projects."
Kellogg will be going head-to-head with Graze.com, a London-based e-commerce company that also competes in the market. That service expanded to the U.S. early last year and is profitable, Chief Executive Officer Anthony Fletcher said.
Kellogg and General Mills both have been looking for new ways to grow and appeal to consumers seeking healthier and more natural alternatives to processed foods. The companies also are testing sales channels outside of grocery stores as customers become more comfortable purchasing online.
Nibblr was similar to Graze, with customers using a website to customize snack boxes featuring individual portions of nuts, dried fruits and other items. Graze sends $6 boxes by mail once a week, every other week or monthly.
Exploring Opportunities
"We're always looking for new ways to reach our consumers -- whether it's through our foods, programs, promotions or other activities," said Kris Charles, a spokeswoman for Kellogg. "We're exploring new opportunities in many areas of our business, but it's premature to discuss any details at this time."
Graze.com, backed by private-equity firm Carlyle Group, started its service more than six years ago. The company said its sales grew 31 percent to 68 million pounds ($104 million) in the year through February. Sales in the U.S. have reached an annual rate of about $35 million.
Before it's here, it's on the Bloomberg Terminal.
LEARN MORE