Greece Submits Budget Plan With Three Weeks of Bailout Left
Nikos Chrysoloras and Helene Fouquet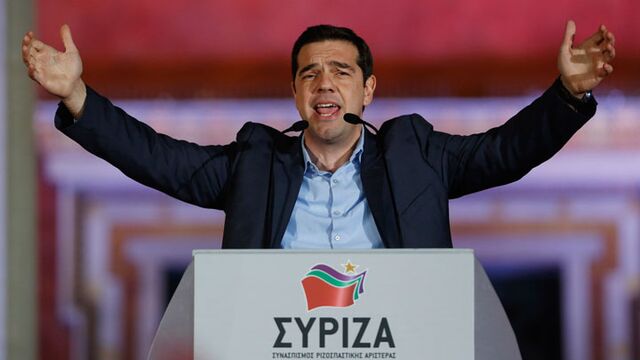 Greece submitted fresh proposals for unlocking bailout funds three weeks before its financial safety net expires, as patience wears thin among its creditors.
Two documents were handed to European Economic Affairs Commissioner Pierre Moscovici to supplement plans set out last week, a Greek official said Tuesday. The papers address creditors' concerns about Greece's budget targets and include a proposal to ensure the sustainability of Greek debt, said the official, who asked not to be named in line with policy.
Greek officials are targeting an encounter between their prime minister, Alexis Tsipras, Germany's Angela Merkel and French President Francois Hollande at a summit in Brussels on Wednesday as the next step toward accessing aid. European officials aren't quite ready to commit to a formal meeting.
"That's not sure yet," Dutch Finance Minister Jeroen Dijsselbloem, who leads euro-area finance ministers, said in a television interview Tuesday. "Experts are looking at it right now to see whether that's substantial enough to come closer to a solution. And then we can see whether it can take place."
Greek stocks rebounded on Tuesday, with the Athens Stock Exchange index gaining 0.7 percent at 5 p.m local time. Yields on two-year notes fell 24 basis points to 25.67 percent.
End of the Line
A spokesman for Hollande said the French leader is open to a meeting with Tsipras but nothing has so far been scheduled. The French government is aiming to wrap up negotiations over aid for Greece by the end of this week.
Almost four months after Tsipras agreed an extension of Greece's rescue agreement, the standoff between creditors and the anti-austerity coalition in Athens risks leaving Europe's most-indebted state unable to meet debt payments. After a series of maneuvers allowed Greece to stay afloat while shut off from both capital markets and official funding, June 30 may be the end of the line unless Tsipras accepts the conditions on financial aid.
The bailout deal is set to expire as about 1.5 billion euros ($1.7 billion) of International Monetary Fund payments come due.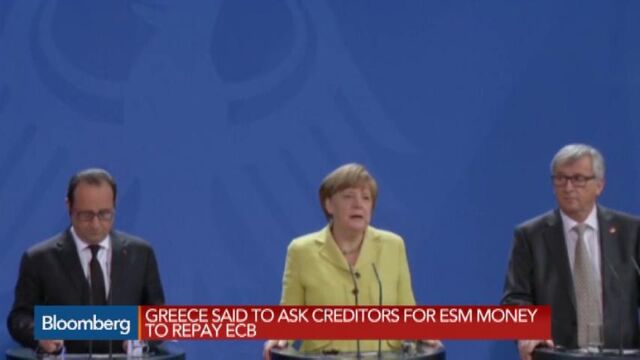 Blaming Germany
Relations between Greece and its creditors have soured since talks last week between Tsipras and Juncker spurred optimism that a deal might be within reach. The yield on Greece's 2017 bonds fell to 22.75 percent on June 3, the lowest in two weeks.
The aftermath of that meeting has been marked by mutual recriminations, with Tsipras calling the creditors' proposal absurd, and Juncker saying the Greek leader had misrepresented the creditors' position.
"Syriza has tried to some extent to play a blame-game against Germany," German Finance Minister Wolfgang Schaeuble said Tuesday in Berlin. "We'd be pretty daft if we were engaging in it."
Greek Proposals
The Greek proposals consist of two three-page documents, one international official familiar with the matter said, asking not to be named, as he is not authorized to speak publicly on the matter. They include a Greek request for funds from the European Stability Mechanism to repay about 6.7 billion euros of bonds held by the European Central Bank that come due in July and August.
Under the latest Greek plan, Tsipras wants access to bailout funds left in the European Financial Stability Facility and for the country's banks to be allowed to buy more of the state's short-term debt, the international official said.
The revised Greek plan is a vague rehash of earlier proposals and is still not considered credible, the international official said.
Read this next:
Before it's here, it's on the Bloomberg Terminal.
LEARN MORE