business
After $12 Billion Deal, GE Prepares for Next Wave of Sales
Richard Clough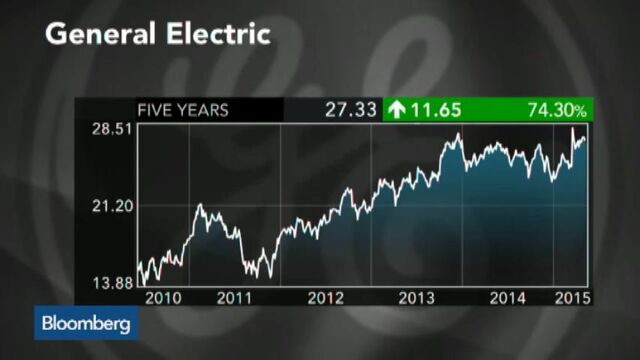 General Electric Co. is trying to sell its foreign buyout lending and health-care finance units quickly after reaching a $12 billion deal to unload U.S. assets in a push to re-emphasize manufacturing.
The two businesses are the biggest sale priorities as the company looks to soothe anxious customers and staff, GE Capital Chief Executive Officer Keith Sherin said Tuesday in a telephone interview. GE is in talks with "dozens" of prospective buyers as it sheds the bulk of the banking operations, he said.
"We wanted to focus first on businesses that have a tremendous amount of franchise value," Sherin said. "The customer base was going to be hesitant to do business with us until they knew who the ultimate creditor was going to be."
GE agreed to sell most of its U.S. Sponsor Finance unit, which helps buyout firms line up funding, to Canada Pension Plan Investment Board. The business, consisting chiefly of the GE Antares operation, will be run independently and continue to be led by managing partners David Brackett and John Martin.
The accord marks the first major business divestiture since GE announced a goal April 10 of unloading about $200 billion of GE Capital assets and refocusing its industrial operations around energy, oil and aviation. Chief Executive Officer Jeffrey Immelt is speeding the exit of the banking division that imperiled the Fairfield, Connecticut-based parent company during the financial crisis.
"We've done this in relatively rapid execution and we like the outcome," Sherin, 56, said. "We were looking at finding a buyer that was a good home for our team that would be able to fund the business going forward, that had an appetite for growth. For us, we wanted certainty of close and value."
GE rose 0.3 percent to $27.33 at the close in New York. The shares gained 8.2 percent this year, compared with a 1 percent gain for the Standard & Poor's 500 Index.
$30 Billion
The company is on track for as much as $30 billion of asset sales by the end of the month, Sherin said.
"There's a lot in the marketplace," he said. "You should expect to see more of these get concluded in the quarter."
The acquisition is the largest in Canada Pension's 18-year history. It previously bought British water supplier AWG in 2006 in partnership with the Commonwealth Bank of Australia for about $10.4 billion.
Canada Pension, which manages the retirement savings of 18 million Canadians, bid aggressively as it pursues acquisitions across several industries. It weighed buying oil explorer Talisman Energy Inc. last year and bought reinsurer Wilton Re Holdings Ltd.
The country's largest pension-fund manager often operates like a private-equity firm, retaining existing management teams on its acquisitions or seeking new ones if changes are needed. In 2013, Canada Pension bought Neiman Marcus Group Ltd. in partnership with Ares Management and kept CEO Karen Katz in place.
"This acquisition exemplifies our strategy to achieve scale in key sectors through platform investments," Mark Wiseman, Canada Pension's CEO, said in a statement Tuesday. "It secures a market-leading business that is exceptionally well positioned to deliver value-building investment flows."
Swift Sale
GE had sought a swift sale of the so-called sponsor-finance unit to avert any staff defections in a drawn-out divestiture. The company has offered retention bonuses to some employees and put restrictions on the ability of bidders to hire GE's bankers. The European portion of the business is being sold separately.
GE Antares, the Chicago-based unit GE acquired in 2005, arranges high-interest loans of $30 million to $500 million. The deal with Canada Pension also includes a $3 billion bank portfolio.
Apollo Global Management, Ares Management LP and Guggenheim Securities also made bids for the U.S. sponsor unit, people with knowledge of the matter said last month. Ares is pursuing a deal for the $8 billion Senior Secured Loan Program it co-manages with GE, people said this week. The firm has lined up investors to help it make an acquisition, one person said.
Heavy Interest
GE said Tuesday it would continue to operate Senior Secured to give Ares and Canada Pension time to arrange a deal to continue the program. If an agreement cannot be reached, it will be wound down, GE said.
With heavy interest from prospective buyers, the disposal of GE Capital assets is going faster than anticipated, Immelt said in a May 20 presentation. The company could announce as much as $30 billion of sales by the end of June.
GE has begun a separate sale process for most of its $74 billion U.S. commercial loan and leasing unit, people familiar with the plan said last month. The company has hired banks to find buyers for divisions including railcar leasing, vendor finance and commercial lending operations, the people said.
Immelt has been moving GE away from lending since GE Capital put the parent company at risk during the 2008-09 financial crisis. The move accelerated with the April 10 agreement to sell most of GE's real estate to Blackstone Group LP and Wells Fargo & Co. for $23 billion.
GE engaged JP Morgan Securities LLC and Citigroup Global Markets Inc. for financial advice on the sponsor unit sale and Sidley Austin LLP provided legal advice. Credit Suisse Group AG and Morgan Stanley acted as financial advisers to Canada Pension, with Debevoise & Plimpton LLP acting as legal adviser. GE expects to close the deal in the third quarter.
(Updates with closing share price in seventh paragraph.)
Before it's here, it's on the Bloomberg Terminal.
LEARN MORE