Euro-Area Growth Helped by Exports, Consumers in 1st Quarter
Catherine Bosley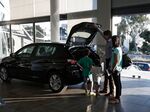 First-quarter growth in the euro area was driven by exports and private consumption.
Gross domestic product rose 0.4 percent in the three months through March after expanding a revised 0.4 percent in the previous three months, the European Union's statistics office in Luxembourg said Tuesday, confirming a May 13 estimate. Household consumption increased 0.5 percent, investment climbed 0.8 percent and exports were up 0.6 percent.
In addition to a drop in the price of oil, a weaker euro due to the European Central Bank's bond-buying program has helped the bloc's output. ECB President Mario Draghi said last week that record monetary stimulus was filtering through to the economy on schedule, and that despite concerns about Greece's debts the recovery was "on track."
"Growth could slow a bit in the second quarter but will remain on a positive trend until the end of the year," said Christophe Barraud, chief economist at Market Securities LLP in Paris.
Household consumption contributed 0.3 percentage point to economic growth in the first quarter, investment added 0.2 percentage point and exports lifted output by 0.3 percentage point, according to the report. Imports subtracted 0.5 percentage point.
In a sign of the trend continuing, euro-area economic confidence remained near a four-year high in May. Markit's factory output gauge for the entire 19-nation region rose to 52.2 last month, above the key 50 mark that divides expansion from contraction.
Quantitative Easing
Since the ECB started its 1.1 trillion-euro ($1.2 trillion) quantitative-easing program three months ago, the inflation rate in the 19-nation euro area has turned positive, though it remains far short the ECB's goal of just below 2 percent.
The euro has weakened nearly 7 percent since the dollar since the start of the year. That means euro-denominated exports are cheaper for overseas buyers.
The region's better economic performance comes despite mounting European Union frustration with the Greek government in its negotiations with creditors to avoid default. European Commission President Jean-Claude Juncker said Greece is not doing enough to ensure it can stay in the euro.
According to the ECB's forecast, inflation will be 0.3 percent this year and will reach 1.8 percent in 2017. Growth in 2015 is expected to average 1.5 percent, then 1.9 percent in 2016, before a 2 percent pace the year after.
Still, Draghi last week warned that slowing global growth could threaten those scenarios. "There has been some loss of momentum, mostly due to the weakening of economies outside the euro area," he said.
Euro-area zone GDP data are measured primarily on a quarter-on-quarter basis, contrasting with the U.S. approach of looking at annualized data.