Christie Wins, New Jersey Pension Loses as Court Allows Punt
Elise Young and Terrence Dopp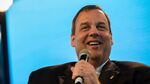 Governor Chris Christie's legal victory that allows him to skip a $1.6 billion pension payment imperils New Jersey's retirement system even as it lessens immediate pressure for wrenching political decisions.
The state's highest court ruled Tuesday that Christie, a Republican, doesn't have to follow his own law requiring him to make extra payments into the system for public workers. His partial contributions exacerbate a deficit that's pushing New Jersey to put more of its budget each year into the funds.
Christie, in New Hampshire wooing voters ahead of a potential run for president, called the decision "an important victory" for taxpayers and reiterated his call for employee givebacks to control costs. Democrats, who run the legislature, say the governor won't get their support without full payments.
"It's good they don't have to come up with the cash right now, but it's bad because it pushes it further into the future," said Dan Solender, municipal portfolio manager for Lord Abbett & Co. in Jersey City, New Jersey. "It's not a solution. It's just a continuation of the issue, and so more uncertainty."
Christie, 52, has acknowledged that the crisis was worsened by governors, including him, who skipped or skimped on payments. He signed legislation to make mandatory extra contributions to bring the fund to actuarial minimums. He built a national image during his first term as a bipartisan leader able to tame the state's finances.
Last year, as revenue fell short of Christie's forecasts, he reduced a $3.85 billion contribution to $1.37 billion for two years, triggering a lawsuit from unions.
New Jersey has been hit with a record nine credit-rating downgrades under Christie amid rising costs for pensions, health care and debt. Still, the Supreme Court ruled that it's up to the legislature to appropriate funds and resolve the issue.
Carte Blanche
Wendell Steinhauer, president of the New Jersey Education Association, a plaintiff in the lawsuit, said the ruling "has given the governor permission to kick the pension can down the road for the rest of his term." Christopher Burgos, president of the State Troopers Fraternal Association of New Jersey and a plaintiff, said in an e-mail that his union will petition the U.S. Supreme Court to hear the case.
"The court has now increased the state's future pension liability and ensured that taxpayers will bear a much greater burden in years to come," Steinhauer said.
As Christie travels out of state to discuss national issues, investors and credit-rating companies are weighing a response to his stewardship of his home state.
The extra interest that investors demand to hold New Jersey debt dropped by about 10 basis points after the ruling gave the state a reprieve from its payment.
A New Jersey transportation bond, a proxy for state credit, due June 2032 traded at a yield spread as low as 1.53 percentage point, compared with an average 1.69 percentage point Monday, data compiled by Bloomberg show.
Still, aside from Illinois, whose high court in May rejected a solution for its $111 billion pension shortfall, New Jersey's spreads are the widest among the 20 states tracked by Bloomberg.
The 5-2 court ruling "is not a reason for celebration from a credit standpoint," Standard & Poor's said in a statement. Without a solution to the crisis, the state's rating "could be vulnerable to further downgrade," S&P said.
New Jersey's pension fund, with seven plans for workers, teachers and emergency personnel, has an $83 billion gap between assets and projected obligations. The primary plan, the Public Employees' Retirement System, will run out of money by 2024, according to a February study by a Christie-appointed commission.
Second Wind
Lawmakers haven't voted yet on Christie's $33.8 billion budget for the year that begins July 1. Democrats said they'll include the full pension payment in the plan they send to the governor. Senate President Steve Sweeney said he anticipates a veto from Christie and hopes Republicans will join his party in overriding the governor for the first time.
The Communications Workers of America, another plaintiff representing about 40,000 of 74,000 state workers, will hold demonstrations to press for full funding, said state director Hetty Rosenstein.
"People in the pension plan have legal rights," she said. "If we don't pay them, there will be a total collapse of the New Jersey economy. One in seven people in this state rely on that plan."
The court's chief justice, Stuart Rabner, was nominated by Democratic Governor Jon Corzine and given tenure by Christie. Three of the six sitting associates were selected by Christie; the bench has one vacancy.
Rabner and Justice Barry Albin dissented from the decision, saying it abrogates promises made to thousands of employees and will have "far-reaching, negative consequences."
"Public workers continue to pay into a system on its way to insolvency," Albin wrote.
Christie, in his statement, said the decision was a victory for "limited, constitutional government that recognizes the proper role of the executive and legislative branches."
The governor urged "all interested parties to come back to the table and partner with me to to finally solve this problem once and for all."
Christie has said he will announce this month whether he's running for president in 2016. His second term ends in 2017.
Now that Christie has legal permission to shortchange pensions, his successor will face the same crisis, said Ben Dworkin, director of the Rebovich Institute for New Jersey Politics at Rider University in Lawrenceville.
"It makes him look like just another typical politician," Dworkin said. "His whole persona is wrapped up in being an atypical politician and this undermines that. The fact that his biggest accomplishment was just a shell of a law makes this a very short-term victory."