Chris Christie Says 2016 Decision 'Only About Me Now'
His family is now on board, he says.
By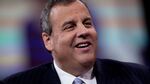 New Jersey Governor Chris Christie said during a speech Tuesday in early-voting New Hampshire that his family is behind him if he chooses to run for president and that his decision is "only about me now."
The 52-year-old Republican, who's said he plans to make up his mind this month, gave an address on national security and foreign affairs. But New Jersey's largest newspaper, the Star-Ledger, reported that following the speech, Christie hinted he's winnowed down his list of boxes to check if he opts to run.
"This is about me now. You have to decide if this is what you want to do with the next 10 years of your life," Christie said, according to the paper. "And so no one should make that decision lightly. I'm on my own time schedule to make that decision."
To date, the Republican has maintained there's a list of three items he would need to check off in order to pull the trigger on a 2016 run: would it be in his own best interests; would it be best for his family; and would it best serve the U.S.
The Star-Ledger reported that first lady Mary Pat Christie stood just to his side as he said she and the couple's four children are "completely supportive" of a run.
Christie spent two days in New Hampshire this week, where he keynoted a Politics and Eggs session at the New Hampshire Institute of Politics at Saint Anselm College, conducted town halls, and attended a house party. Later this week, he's scheduled to be in Iowa, home of the nation's first nominating caucuses, to deliver an education speech and conduct town halls.