Apple Works to Refocus Its Devices at Nexus of Entertainment
Tim Higgins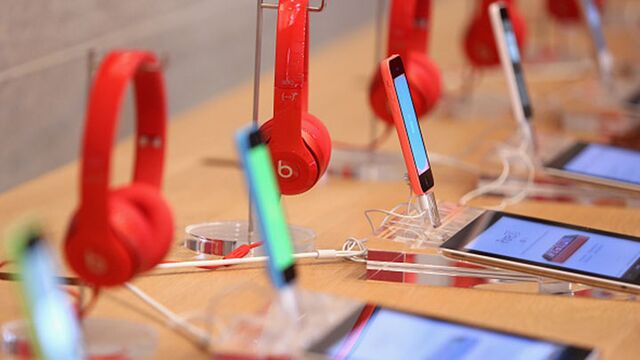 At Apple Inc.'s much-hyped developer conference, musician Drake spoke about Apple's new streaming-music service. Executive Eddy Cue did an awkward dance while showing off its features. And journalists struggled with the correct spelling of musical guest Weeknd.
What wasn't announced Monday in San Francisco -- a new TV service -- may be more telling about the challenges facing Chief Executive Officer Tim Cook as he seeks new sources of revenue. The company, which had been negotiating with potential partners, scrapped plans to introduce a service because it wasn't ready, people familiar with the effort have said.
Streaming TV would've been the third leg in a new media push to keep Apple at the center of people's digital lives -- a source of not just music and information, but also video entertainment. The Cupertino, California-based company revealed Apple Music, a service aimed at taking on Spotify Ltd. and Pandora Music Inc., and an app that compiles news stories from outlets such as the New York Times and ESPN. Taken as a whole, the efforts show how Apple is trying to ensure its devices remain a hub for users' entertainment needs.
"One of the reasons for having a well worked out strategy for media, is because media is a great way of giving consumers a use case for your family of devices," said Dan Cryan, an analyst at IHS Technology. "If you were to strip out music, videos and games, the number of consumer uses of an iPhone would, relatively speaking, diminish."
Smart Moves
Apple upended the music business more than a decade ago by selling individual songs online, becoming the world's largest music retailer. But that position is in danger with the industry's streaming revenue to exceed sales from downloads, according to MusicWatch. Traditional TV, too, is in flux with the rise of Netflix Inc. and services that look to replace cable television.
While music and TV are sexy, the Worldwide Developer Conference traditionally is about preparing programmers for changes to upcoming software improvements. The company unveiled a new operating system for mobile devices that includes the ability to more proactively predict what kind of information a person might need or find useful, such as traffic warnings ahead of an appointment in a certain location.
Software changes to the iPad will allow for some of the devices to multitask when video is being played, creating a picture-in-picture similar to features once found on high-end television sets. All of the software upgrades will be available this fall.
User Experience
Apple also announced it would offer certain customer loyalty programs with its Apple Pay mobile payment system. The company also demonstrated changes to the software on its newest device, the Watch, that allow for new faces and different uses. Apple previewed software tools that will allow third-party app developers take advantage of the watch's functions and let programs run smoother and faster.
"While WWDC lacked a blockbuster announcement, the combination of many incremental product innovations to iOS, Apple Pay and Apple Music add up to a better user experience, which we believe will allow Apple to continue to gain share in the high-end smartphone market, PC market and wearables market," Gene Munster, an analyst at Piper Jaffray & Co., wrote in a note to investors.
In a telling sign of who the audience was in the event center, one of the largest cheers came when Apple announced it would make its programming language called Swift, introduced last year, freely available as open source software.
TV Options
Apple took an early step toward greater TV options when it began offering HBO's new stand-alone online service through its Apple TV set-top box. Television networks are increasingly seeking to attract younger viewers with an online-only video service. CBS sells All-Access for $5.99 a month and offers a free online-news service called CBSN, while Comcast Corp.'s NBCUniversal has said it plans to offer a subscription service for comedy videos in the coming months.
Apple has been in talks with broadcasters ABC, CBS and Fox to be part of a Web-based service that would include about 25 channels, people have said. Those negotiations are moving slowly, they said.
Read this next: