business
South Korea Reports Sixth MERS Death, First Teenage Patient
Sam Kim and Natasha Khan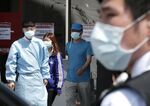 South Korea reported its sixth death from the Middle East respiratory syndrome, with the total number of cases rising to 87, including the first teenager to be infected with the virus.
An 80-year-old man suffering from pneumonia at a hospital in Daejeon in central South Korea died Monday, the health ministry said in an e-mailed statement. Separately, a 16-year-old boy has been infected and remains in stable condition, Jeong Eun Kyeong, an official at the Korea Centers for Disease Control and Prevention, said at a briefing in Seoul.
"Obviously it's a very serious situation, but right now it's a hospital-related outbreak," Michael Osterholm, director of the University of Minnesota's Center for Infectious Disease Research and Policy in Minneapolis, said in a phone interview. "If you've visited these health-care facilities or have contacts in these facilities, this is a concern, but for the vast majority of people, this is not a public health concern, that needs to be made clear."
South Korea has disclosed the list of 29 hospitals affected by the outbreak. Cases were confirmed in five of the hospitals, while the rest were ones where patients visited. The majority of outbreaks took place at Samsung Medical Center in southern Seoul and Pyeongtaek St. Mary's Hospital south of the capital.
Economic Impact
The disclosure of the list was made as officials stepped up efforts to reassure the public that the outbreak was under control and limit any economic damage. About 25,000 people have canceled trips to South Korea from June 5 to June 7, according to the Korea Tourism Organization, and Hong Kong today advised its citizens to avoid non-essential travel to the country. Tourism accounted for 5.8 percent of South Korea's economic output in 2013, the KTO said.
"Implications for economic activities should be not overlooked as domestic consumption in sectors such as tourism may weaken due to MERS," President Park Geun Hye said during a visit to MERS response headquarters in Seoul, urging "nationwide efforts against the outbreak," according to the website of her office.
One MERS patient, who is undergoing cancer treatment, is in critical condition and 10 other patients are in "unstable" condition as of Monday, Jeong said.
'Super-Spreading Events'
"Clearly there's at least one -- maybe two -- super-spreading events going on," said Osterholm, who has consulted the South Korean authorities. "They occur when you have someone who's likely much more infectious than the typical MERS patient, combined with lack of good infection control: that's when you see this kind of dynamic transmission."
South Korea provided North Korea with three thermal imaging cameras to help prevent the spread of MERS across the border, Unification Ministry spokesman Lim Byeong Cheol said Monday at a briefing. Hundreds of South Koreans work in a jointly run factory complex in the North Korean border city of Gaeseong, employing more than 50,000 local staff.
Nearly 2,000 schools closed on Monday in South Korea, the education ministry said in an e-mailed statement.
"I'm cautiously predicting, but I think the peak was reached today," Health Minister Moon Hyung Pyo said Monday at a parliamentary hearing, referring to the outbreak. "It'll hopefully start looking stable from tomorrow or the day after tomorrow."
DNA sequencing of MERS in South Korea is almost identical to that from Saudi Arabia and other Middle Eastern nations, according to the health ministry. The number of people in quarantine had risen to 2,361 as of Sunday, the ministry said.
MERS had infected more than 1,100 people and killed about 400 worldwide, mostly in the Middle East, before the outbreak in South Korea. It can lead to severe illness including respiratory failure, or septic shock. There's no vaccine or cure.
(Updates with Hong Kong issuing travel advisory and tourist cancelations in fifth paragraph.)
Before it's here, it's on the Bloomberg Terminal.
LEARN MORE