Pontet-Canet 2014 Price Boosted as More Horses to Arrive
Guy Collins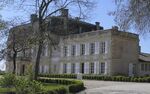 Bordeaux estate Chateau Pontet-Canet has boosted the price of its 2014 wines to reflect an improved growing season and decade-long investment in its biodynamic vineyard, where more horses will soon begin working the soil.
The vintage was priced last month at 66 euros ($73) a bottle from Bordeaux merchants, up 10 percent from the 60-euro price of the previous two vintages and in line with its 2011 price, according to data from London online market Liv-ex. A second tranche was pitched 18 percent above May's offering.
The 2014 vintage followed two difficult years of weather in the region and marked a return to more normal conditions both in the vineyards and in the global wine market. While prices in Bordeaux were generally above those predicted by merchants, according to Liv-ex, growers said improved quality relative to 2013 and 2012 helped make 2014 wines more expensive.
"The fruit was very ripe when it came in," Melanie Tesseron, who has joined her uncle Alfred Tesseron in running the family-owned estate, said before a tasting at Bonhams in London last month. "It's one of those greats. Maybe not as great as the '09 and '10, but we're not far."
Wine estates such as Pontet-Canet and some of its near neighbors, including Chateau Lynch-Bages, have invested over recent decades to raise their level of wine-making closer to those ranked higher in the 1855 Medoc classification.
Long-Term Investment
"The investment we've done, it's been step by step," Melanie Tesseron said. Pontet-Canet was acquired by the family in 1975 and is a close neighbor of Pauillac first-growth estate Chateau Mouton-Rothschild.
"It's one of those properties that you'd say you must always go to in Bordeaux," Richard Harvey, director of the Bonhams wine department, said before the tasting, citing "the work that the Tesserons have done since they bought the property, and particularly since the 1990s and through the 2000s."
"There's lots of very good Bordeaux, and if it's priced right, it sells," Harvey said. "Pontet-Canet is well known in this country. People pick up on the fact that the quality has risen dramatically."