Pistorius to Head Home as South Africa Seeks Murder Ruling
Andre Janse van Vuuren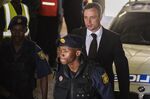 Paralympian Oscar Pistorius will leave prison for house arrest in August as South Africa's appeals court prepares to hear a bid from prosecutors to convict him for murder for the killing of his girlfriend Reeva Steenkamp.
A parole board agreed on June 5 to a recommendation that Pistorius be put under house arrest on Aug. 21, Manelisi Wolela, a spokesman for the department of correctional services, said Monday by phone.
Pistorius, 28, is serving a five-year jail term after Judge Thokozile Masipa cleared him of murder charges in October at the High Court in the capital, Pretoria. Pistorius said he thought Steenkamp was an intruder in his home when he fired four hollow-point bullets through a locked toilet door on Valentine's Day two years ago. The terms of his sentence specified that Pistorius was eligible to apply for house arrest after serving 10 months.
His release from jail will come three months before the start of an appeal hearing requested by state attorneys for a murder conviction that would leave Pistorius facing a minimum term of 15 years in jail.
The decision to release Pistorius into supervision "is an independent and separate process" from the appeal, Wolela said in an e-mailed statement.
'Shockingly Inappropriate'
Prosecutors agreed to file their heads of arguments to the Bloemfontein-based Supreme Court of Appeal in August, followed by the defense's argument a month later, the court's registrar, Paul Myburgh, said by phone.
Steenkamp's family has forgiven Pistorius and doesn't seek to avenge her death, according to a submission to the parole board that was published by Johannesburg-based news agency EWN.
"However, a person found guilty of a crime must be held accountable for their action," EWN quoted the family as saying in the submission. "Incarceration of 10 months for taking a life is simply not enough."
Pistorius's family said in an e-mail that it noted the statements from the prisons department and wouldn't be commenting on the decision.
Prosecutor Gerrie Nel argued last year that Pistorius must have known his actions would lead to the death of the person behind the door and called his five-year jail term "shockingly inappropriate."
Known as the Blade Runner because of his J-shaped prosthetic blades, Pistorius was the first double-amputee runner to compete in the Olympic Games. Born without fibula in both legs, which were amputated when he was 11 months old, Pistorius won six Paralympic gold medals.