Patriots Cut Spikes as Police Investigate Possible Hit-and-Run
Erik Matuszewski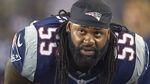 The New England Patriots released linebacker Brandon Spikes after a car that belongs to him was found damaged and abandoned on a highway, prompting an investigation by Massachusetts State Police.
Spikes's 2011 Mercedes-Benz Maybach was left in the median strip of Interstate 495 in Foxborough, Massachusetts, early Sunday morning and police said the operator reported hitting a deer, the Boston Globe said.
The driver had left the scene when police arrived, the Globe said. Spikes's car had damage to the front end and no evidence of a deer was found, the newspaper said.
According to the Globe, police said another vehicle reported being rear-ended in that area at about the same time and the three occupants were taken to a local hospital with minor injuries. Police are investigating if there is a connection between the incidents, according to newspaper.
The Patriots on Monday morning issued a statement that they've released Spikes, without commenting further. Spikes's agent, Gary Uberstine, didn't immediately respond to an e-mail seeking comment.
Spikes, 27, rejoined the Patriots in May after spending the 2014 National Football League season with the Buffalo Bills. A second-round pick of New England in the 2010 draft, Spikes played his first four seasons with the Patriots.