LeBron James Scores 39 as Cavs Tie NBA Finals With Warriors
Rob Gloster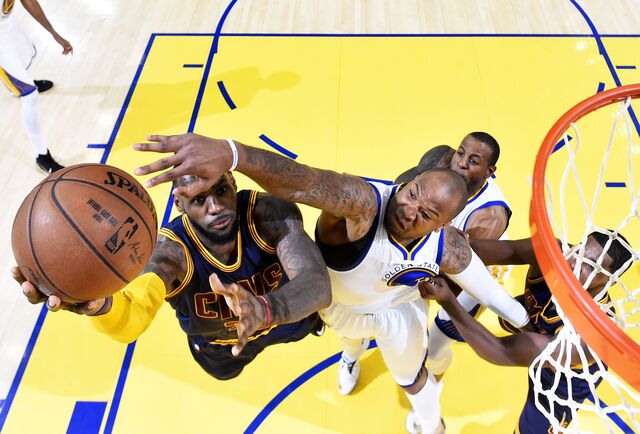 LeBron James scored 39 points and the injury-depleted Cleveland Cavaliers got their first NBA Finals victory in franchise history to head home with the championship series tied at one game apiece with the Golden State Warriors.
The Cavaliers, playing a day after point guard Kyrie Irving had knee surgery, won 95-93 in overtime Sunday night by holding NBA Most Valuable Player Stephen Curry to 19 points on 5-for-23 shooting.
Irving joined Kevin Love on the sidelines for Cleveland. Love dislocated his left shoulder in the first round of the playoffs.
"It's the grit squad that we have, it's not cute at all," James said in a news conference. "If you're looking for us to play sexy, cute basketball, that's not us right now."
Matthew Dellavedova, who stepped in for Irving, made two decisive free throws with 10 seconds remaining in overtime and did a good job all game defensively on Curry -- who set a Finals record by missing 13 shots from 3-point range.
"It had everything to do with Delly," James said of his teammate. "He kept a body on Steph, he made Steph work. He was spectacular, man, defensively, and we needed that from him."
Game 3 of the best-of-seven National Basketball Association championship series is set for Tuesday in Cleveland.
Both games in the series so far, both played at Golden State, have gone into overtime. The Warriors won Game 1 by 108-100 despite 44 points from James.
"I thought we played well enough to win the last game, too, to be honest with you," Cavs coach David Blatt told reporters. "Today the ball just bounced our way at the right time, and that's why today we won and the other day we lost."
Undrafted Australian
Dellavedova, an Australian who was not drafted by any NBA team after playing at Saint Mary's College -- a 4,200-student liberal arts school in Moraga, California, 20 miles east of the Warriors' Oracle Arena in Oakland -- had all nine of his points in the fourth quarter and overtime.
After he gave the Cavaliers a 94-93 lead late in overtime, he forced Curry into missing a shot that would have given the Warriors back the lead. James added another free throw for Cleveland's final point.
"Shots I normally make I knew as soon as they left my hand that they were off," said Curry, who was 2-for-15 on 3-point attempts. "Just didn't have a rhythm and didn't find one the whole game."
James added 16 rebounds and 11 assists for the Cavaliers, who had been 0-5 in Finals games -- they were swept in four games by San Antonio in their only previous appearance in 2007 and lost Game 1 to the Warriors last Thursday.
Beating Odds
Irving limped off the court in overtime of Game 1 with a fractured knee cap and had surgery Saturday. That thrust Dellavedova into the starting lineup.
"He's a guy that's been counted out his whole life," James said. "Probably people have been telling him he's too small, he's not fast enough, can't shoot it enough, can't handle it good enough, and he's beat the odds so many times."
Timofey Mozgov added 17 points and 11 rebounds for Cleveland. Klay Thompson had 34 points for the Warriors.
Golden State rallied from an 11-point deficit in the final three minutes of regulation time to force it into overtime. Curry made a layup with 7.2 seconds left in the fourth quarter to tie it at 87-87, and James missed a shot with two seconds remaining.
"Our guys love the fact that we've been counted out and come into the series being an underdog," James said, pointing out that pundits declared the series was over when Irving got hurt. "I think our guys are using that as motivation."
Before it's here, it's on the Bloomberg Terminal.
LEARN MORE