business
Jain's Allies Faissola and Fan Said to Be at Risk of Departing
Ambereen Choudhury and Jacqueline Simmons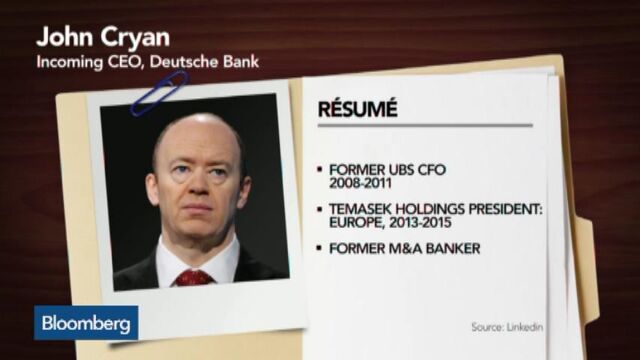 Anshu Jain's abrupt exit from Deutsche Bank AG may augur the departure of long-time colleagues in a looming executive shakeup, said people with knowledge of the matter.
Colin Fan, who runs Deutsche Bank's securities unit, and head of wealth management Michele Faissola are among senior bankers at risk of leaving given their close ties to departing co-Chief Executive Officer Jain, said the people, who asked not to be identified discussing personnel matters. Fan and Faissola didn't return calls or e-mails seeking comment. A spokeswoman at Deutsche Bank in London declined to comment.
During his three-year tenure as co-CEO, Jain has seen the investment bank he helped build into one of the world's largest hurt by escalating regulatory probes and litigation stretching from interest-rate rigging to alleged Russian money laundering. John Cryan, who's replacing Jain, may replace some senior executives with his own people, said John Purcell, CEO of Purcell & Co., a London-based executive-search firm.
"The impending departure of Fan and Faissola would seem inevitable," Purcell said. "This is not because they are not competent and credible, rather that they are associated with the swashbuckling reign of Jain."
Jain and Faissola both joined Deutsche Bank in 1995, while Fan was hired three years later. Under Jain, Fan 42, was promoted to co-head of the investment bank in 2012, while Faissola, 47, who oversaw rates and commodities, was appointed to lead the combined asset and wealth-management business.
Quarterly Performance
In the first quarter, revenue at the investment bank, jointly led by Fan, climbed 15 percent to 4.65 billion euros ($5.2 billion) as fixed-income sales and trading rose 9 percent and equities sales gained 31 percent from the year-earlier period. The asset-and wealth-management unit, overseen by Faissola, posted a 75 percent increase in pretax profit.
The bank said on Sunday that Jain will leave at the end of June, with Cryan taking over to oversee efforts to cut costs, improve profitability and resolve legal battles. Cryan, former chief financial officer of UBS Group AG, will run the firm with co-CEO Juergen Fitschen until the latter departs next May.
"When you remove a tree, best practice is to take the roots with it," said Jason Kennedy, CEO of London-based recruitment firm Kennedy Group. "It's whether the CEO decides to get his own people on board and normally that has always been the case. It may take six months, but a leader surrounds himself with people he knows."
Read more here:
Before it's here, it's on the Bloomberg Terminal.
LEARN MORE