business
Jain Joins Parade of Departing CEOs as Banks Look for Profit
Frank Connelly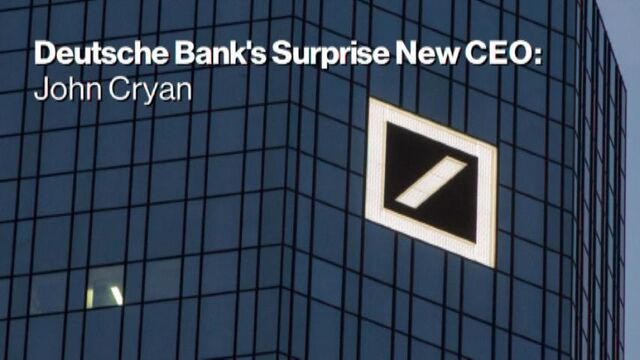 Deutsche Bank AG's decision to replace its co-chief executive officers, Anshu Jain and Juergen Fitschen, caps a series of management shuffles in recent months that promise to reshape Europe's banking industry.
Jain, 52, who helped build Deutsche Bank into a fixed-income powerhouse in two decades at the company, will step down on June 30, to be replaced by John Cryan, the 54-year-old former finance chief at UBS Group AG. Cryan, who sits on Deutsche Bank's supervisory board, will run the firm with Fitschen, 66, until the latter departs next May.
Below are some of the recent leadership changes at Europe's biggest banks:
* Banco Bilbao Vizcaya Argentaria SA named Carlos Torres, its head of digital banking, as chief operating officer last month to replace Angel Cano in a wider revamp to accelerate the lender's digital transformation.
* Credit Suisse Group AG decided in March to replace CEO Brady Dougan, 55, with Tidjane Thiam, 52, the former CEO of Prudential Plc. Thiam takes over at the end of June from Dougan, an American who led the Zurich-based bank since 2007.
* Barclays Plc hired John McFarlane as chairman to help overhaul its culture in the wake of a series of scandals. He replaced David Walker after the annual shareholder meeting in April. McFarlane, 67, stepped down as chairman of Aviva Plc and FirstGroup Plc to take the job.
* Standard Chartered Plc named former JPMorgan Chase & Co. investment bank co-chief Bill Winters to replace Peter Sands, 53, as CEO as it seeks to reverse faltering earnings growth and a slump in shares. Winters, 53, takes over this week. Chairman John Peace will leave in 2016.
* Royal Bank of Scotland Group Plc named former regulator Howard Davies to replace Philip Hampton, 61, as chairman starting Sept. 1, as the taxpayer-owned lender works to shrink its investment bank after seven straight annual losses. Davies, 64, was a former chairman of the now defunct U.K. Financial Services Authority.
* Credit Agricole SA chose Philippe Brassac, head of the federation of regional banks that controls Credit Agricole, to become CEO on May 20, replacing Jean-Paul Chifflet, 65, who retired.
* Societe Generale SA, France's second-largest bank, named former European Central Bank board member Lorenzo Bini Smaghi chairman, as it separated the post from that of CEO. Bini Smaghi, 58, took up the post at the end of May, Frederic Oudea, 51, relinquished the chairman role and kept the CEO title.
* BNP Paribas SA Chairman Baudouin Prot, 64, stepped down as of Dec. 1, and was replaced by Jean Lemierre, 65. Prot spent 31 years at BNP, including eight as CEO, helping build the French lender into one of the world's largest banks.
* At Banco Santander SA, Spain's largest-bank, chairman Ana Botin, 54, took over from her late father Emilio in September and two months later ousted CEO Javier Marin, promoting Jose Antonio Alvarez into that role.
Read this next:
(Updates with BBVA changes in first bullet point.)
Before it's here, it's on the Bloomberg Terminal.
LEARN MORE