Italian Parmigiano Reggiano Goes Kosher to Grab U.S. Market
Chiara Vasarri and Flavia Rotondi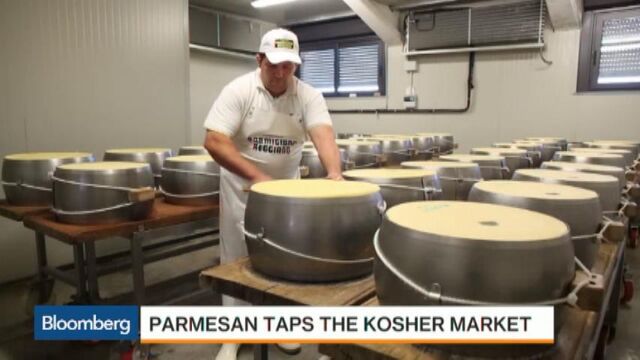 Nicola Bertinelli can tell a happy cow by its shiny hide and wiggly ears, traits important to him since he retooled his dairy business near Parma, Italy to produce Kosher Parmigiano Reggiano cheese.
"An entrepreneur who has vision must spot what's missing," in the market, Bertinelli, 42, said during an interview at his cheese factory, surrounded by 7,000 wheels of aging parmesan. A clean bill of health for his cows is one of many requirements for a Kosher certification.
Bertinelli is among a growing number of Italian companies seeking such certification to increase exports, particularly to Israel and the U.S., where demand is booming. The U.S. kosher market has been pegged at about $12.5 billion, according to Lubicom Marketing & Consulting. Of the 12.4 million people who buy kosher products in the U.S., only about a fifth follow Jewish diet laws, Lubicom estimates. Many consume the products for health and safety reasons or because of other dietary regimens, it says.
Among Italian businesses that have obtained Kosher-certification for some of their products are coffee company Lavazza and food giant Ferrero, famous abroad for its Nutella chocolate-hazelnut spread.
"Made in Italy is a brand in and of itself; adding a new brand, that's Kosher compliant, Shariah compliant, environmental or organic compliant" can only reinforce it, Michele Costabile, a professor of marketing at the Luiss University in Rome, said in an interview.
Bank Collateral
The first Kosher parmesan cheese wheels produced by Bertinelli will be available on the market in October and will be presented at the ongoing World Expo in Milan, dedicated to food.
A degree in agriculture, a background in theological studies and four years in Canada eased his ability to make parmesan that complies with the kashrut, the set of Jewish religious dietary laws, and with an 800-year-old Italian Parmigiano Reggiano making tradition.
The Parmigiano Reggiano industry represents a business worth more than 2 billion euros ($2.3 billion), according to agriculture association Coldiretti. A 39-kilo (86-pound) wheel that's aged for 24 months can retail for more than 700 euros.
It is so precious that some regional banks hold it as collateral for loans to producers.
Making Kosher Parmigiano Reggiano costs about 30 percent more than producing the standard one, Bertinelli said.
Mashgiach Hired
To get his Kosher certification, he had to invest an initial 1.5 million euros and carry out a special cleaning and sanitisation procedure of the whole product chain, from the farm to the cheese factory's equipment.
Every day a mashgiach, a representative of the Jewish community who supervises production, provides his counsel on everything from the selection of cows -- animals that have had surgery can't produce Kosher milk -- to the use of a special rennet.
In addition to the permanent supervisor, Jack Dwek, another representative of the Jewish community, visits the cheese factory once a week to make sure the procedure is respected.
Dwek says he got in touch with Bertinelli when his family Kosher restaurant in Milan faced a culinary dilemma.
"You have pasta, the best pasta, but people who come to an Italian restaurant want to eat pasta with Parmigiano Reggiano," Dwek said his father-in-law once told him about the restaurant.
Wider Trend
His search for Kosher parmesan led him to a partnership with Bertinelli. He has since moved to other Kosher-food projects with various Italian entrepreneurs.
"I'm working on frozen ravioli, frozen gnocchi, ready meals," Dwek said.
Bertinelli may soon become the only Parmigiano Reggiano-maker recognized by two of the biggest Kosher certification agencies, OK and the Orthodox Union.
He expects to post revenue of about 18 million euros this year, 7 million of which will come from the cheese business, with the rest drawn from other activities including a restaurant and a disco. The entire production for 2015, about 6,000 wheels, has already been sold to a Luxembourg fund, he said. He's convinced this is just the beginning of a wider trend.
"Today about 58 percent of products on grocery shelves in the U.S. are Kosher, " Bertinelli said. "Let's imagine what will happen in Europe in a few years from now. I think in the near future many producers in the agricultural business will invest in the Kosher market."