Emerging Stocks Post Longest Decline Since 1990 on Fed Outlook
Harry Suhartono and Maria Levitov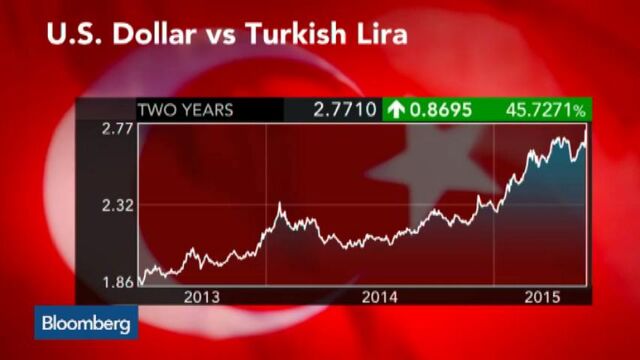 Emerging-market stocks dropped for an 11th day, the longest losing streak since September 1990, on growing concern that the U.S. will raise the near-zero interest rates that have buoyed demand for assets in developing nations.
Turkish shares sank 5.1 percent and the lira fell to a record after the ruling party lost its parliamentary majority. HTC Corp. sank to a 10-year low in Taiwan as the smartphone maker cut its sales forecast. Iron ore producer Vale SA led a 0.3 percent decline in Brazilian stocks. The ruble strengthened as Russia's central bank scaled back foreign-currency purchases.
The MSCI Emerging Markets Index declined 0.5 percent to 977.09, taking its decline since May 22 to 5.8 percent. Stocks have been tumbling amid a stream of data signaling that the U.S. economy may be strong enough to sustain its first interest-rate increase since 2006. Reports this week are forecast to show improvements in consumer sentiment and retail sales. Payrolls jumped in May by the most in five months, the Labor Department said Friday.
"Strong figures from the U.S. on Friday showed us that U.S. growth should be back on track and the interest-rate hike could happen later this year," Hertta Alava, the head of emerging markets at FIM Asset Management Ltd. in Helsinki, said by e-mail. "I don't expect a big sell-off, rather slowing summer trading and lack of momentum. Turkish elections are certainly causing some volatility."
Turkey Election
Turkey's election result raises the prospect of a coalition and conflict with President Recep Tayyip Erdogan.
Turkiye Garanti Bankasi AS slumped 7.5 percent, leading the biggest decline in the Borsa Istanbul 100 Index since December 2013. The lira fell 3.3 percent. Erdogan's AK Party failed to win a majority for the first time since 2002, setting up the possibility of a fragile minority government, weeks of coalition bargaining or a return to the ballot box.
Koza Altin Isletmeleri AS, a Turkish gold miner, jumped 7.6 percent as investors speculated companies associated with U.S.- based Islamic cleric Fetullah Gulen will benefit from weakening of Erdogan's power.
The ruble strengthened 0.5 versus the dollar, gaining for a second day. While Russian central bank Governor Elvira Nabiullina said on Monday that purchases of foreign currency for reserves will continue for a long time, the Bank of Russia on June 4 bought $131 million, the least since the program started on May 13.
The Ibovespa fell for a third day in Sao Paulo as Vale retreated 3.2 percent.
The MSCI developing-nation measure trades at 11.9 times 12-month projected earnings, compared with its three-year average of 10.7, data compiled by Bloomberg show. Today's drop trims this year's advance to 2.2 percent. Eight out of 10 industry groups fell, led by industrial stocks.
HTC Tumbles
HTC tumbled 9.9 percent in Taipei. The company lowered its sales forecast as much as 35 percent and announced plans to write off NT$2.9 billion ($94 million) of impaired assets.
The Jakarta Composite Index fell to the lowest level since Nov. 10, as the rupiah slid 0.7 percent. India's S&P BSE Sensex sank 0.9 percent, its fifth day of declines.
South Korea's won declined 1.1 percent on speculation the Bank of Korea will add stimulus this week to combat the fallout of a virus outbreak and to prepare for a Fed interest-rate increase.
Shanghai Composite Index rose 2.2 percent to the highest close since January 2008, as bets MSCI Inc. will include mainland China shares in its indexes outweighed weaker shipments data.
CRRC Corp., formed by merging Chinese rail companies CSR Corp. and China CNR Corp., jumped 10 percent in Shanghai on its debut. Hong Kong's Hang Seng China Enterprises Index gained 1.4 percent.
The premium investors demand to own emerging-market debt over U.S. Treasuries increased five basis points to 339 basis points, according to a JPMorgan Chase & Co. index.