Donald Rumsfeld: George W. Bush Was Wrong About Iraq
The former U.S. defense secretary says that the former president was mistaken to insist on trying to "fashion a democracy in Iraq."
By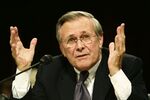 When it comes to the U.S.-led war in Iraq, hindsight continues to turn up its share of surprises. 
Former Defense Secretary Donald Rumsfeld, one of the staunchest defenders of the Iraq war, said in an interview with the Times of London that his boss, former President George W. Bush, was wrong to try to create democracy onto Iraq. 
"The idea that we could fashion a democracy in Iraq seemed to me unrealistic. I was concerned about it when I first heard those words," Rumsfeld said, adding, "I'm not one who thinks that our particular template of democracy is appropriate for other countries at every moment of their histories."
Bush often spoke of how toppling the government of Saddam Hussein would lead to American-style democracy. 
"A liberated Iraq can show the power of freedom," Bush said in a Feb. 26, 2003 speech in the run up to the invasion, "to transform that vital region by bringing hope and progress into the lives of millions. America's interests in security and America's belief in liberty both lead in the same direction: to a free and peaceful Iraq."
The war and its aftermath, of course, turned out to be far more difficult that Bush or his advisers imagined. According to the non-partisan group Iraq Body Count, 216,000 deaths have been reported in Iraq since the United States invaded the country on March 20, 2003. Amid a security vacuum, terrorist groups like the Islamic State were able to gain a foothold in the country, and in his interview with the Times, Rumsfeld expressed his view that western leaders were not doing enough to combat the extremists. 
"The movement for a caliphate, the movement against nation-states is central and fundamental. And no one's talking about it," Rumsfeld said. "Have you ever heard anyone at the UN begin to think about the concept?"
Still, Rumsfeld granted that the answer may not lie with another invasion. 
"You begin to look at this thing not like a war, but more like the Cold War… you're not going to win this with bullets, you're in a competition of ideas," he said.