business
Coding Boot Camp Enrollment Soars as Students Seek Tech Jobs
John Lauerman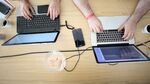 Graduates of computer coding schools will more than double this year, a signal of heightened interest in high-paid technology jobs.
More than 16,000 students will graduate from programming boot camps, up from 6,740 in 2014, according to data from Course Report, a website that allows students to rate the schools. The intensive training programs teach students how to create websites and mobile apps in two to six months and cost as much as $21,000.
Computer-related jobs are expected to grow faster than the median for all occupations through 2022, according to government statistics. Computer science graduates' average starting salaries are more than $65,000, and elite schools including Harvard University are hiring teachers to keep up with demand.
"We're still seeing people getting placed," Liz Eggleston, co-founder of Course Report, said in a telephone interview. "I'd say the market isn't saturated yet."
William Dembinski, 24, signed up at Hack Reactor in San Francisco after studying biopsychology and Spanish at the University of California, Santa Barbara. The 2013 graduate will pay $17,780 to take classes six days a week, 11 hours a day for three months.
"The program and curriculum are intense," Dembinski said. "That type of mentality is healthy, and I want to be pushed."
The tech boot-camp industry is less than four years old and graduated about 2,000 students two years ago, according to Course Report. Graduates don't receive diplomas or certificates. Their credentials are the software programs that they coded while in school. About three-quarters of students are placed in coding jobs within three months of graduating, Course Report said in August.
Mean boot camp tuition is $11,063, about 10 percent higher than a year earlier, and ranges to as much as $21,000, Course Report said in a statement. Total boot camp industry revenue will be about $172 million in 2015, up from about $52 million last year, the statement said.
For more on code, read this next:

Plus, our special report: The World Belongs to People Who Code
Before it's here, it's on the Bloomberg Terminal.
LEARN MORE