The Clinton Global Initiative Is Back, But Where Are the CEOs, the GOP, and Hillary?
Organizers insist that controversies about the Clinton Foundation aren't having an impact.
By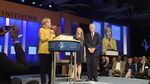 During the past few years, when the Clinton Global Initiative held its annual America conference, the leaders of corporate and political America made it a point to be there. Past participants have included presidential aspirants Carly Fiorina, Chris Christie and, of course, Hillary Clinton. Top executives of blue-chip companies such as Duke Energy, Dow Corning, the TIAA-CREF pension fund, UBS Wealth Management, Goldman Sachs, Walmart, and Siemens have all participated in prior years.