business
Erdogan's Turkish Grip Weakens as AKP Fails to Win Majority
Onur Ant, Selcan Hacaoglu and Benjamin Harvey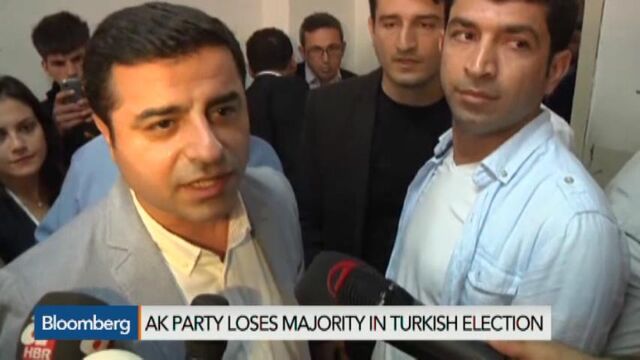 After dominating Turkey for more than a dozen years, Recep Tayyip Erdogan saw his grip on the country loosen after the party he founded lost control of parliament following an election campaign marred by violence.
Stocks plunged and the lira weakened to a record after the results raised the possibility of a fragile minority AK Party administration, weeks of coalition bargaining, or a return to the ballot box to break the deadlock. Deputy Prime Minister Numan Kurtulmus told national television the AKP's plan is to try and form a government with another party first.
"Turkey is heading to a period of political instability," Ipek Ozkardeskaya, an analyst at London Capital Group, said in an e-mailed report entitled "The Game Is Over" on Monday. "Tensions between the political parties, due to considerable discrepancies following 13 years of divisive rule, raise the question of how these parties will find common ground to bring political peace back to the country."
Erdogan's thirst to cement his power combined with an economic slowdown, rising unemployment and a corruption probe involving some ministers led to the loss of popularity for AKP. Under his leadership since 2002, the economy had doubled in size and he used the support that the new-found prosperity brought to build his brand of political Islam.
45 Days
With more than 99 percent of votes counted after Sunday's general election, the AKP is set to win 258 seats in parliament, according to preliminary results published by the state-run Anadolu Agency. That's 18 short of the number needed to win a vote of confidence to form a government. The constitution requires a coalition to be formed within 45 days.

"I believe that the current picture, in which no party is able to rule alone, should be assessed in a healthy and realistic manner by all political parties that participated in the race," Erdogan said in a statement.
As a bridge between the European Union and the conflicts of the Middle East, Turkey has the region's biggest economy and foreign investors hold almost $100 billion in stocks and bonds.
The Borsa Istanbul index was down 6.3 percent at 3:13 p.m. local time. The lira weakened 3.7 percent to 2.7628 per dollar, with Goldman Sachs Group Inc. forecasting the currency will weaken to 3.15 over 12 months.
Presidential Power
The loss of the Islamic-rooted AKP's majority may derail plans by Erdogan, 61, who won the presidency last year after more than a decade as premier, to shift the nation's center of power from parliament to his office. Those changes would require a large parliamentary majority to alter the constitution, which now seems beyond reach.
"Good-bye single-party government, hello political uncertainty," Ilker Domac and Gultekin Isiklar, economists at Citibank AS, wrote in a report published on Monday. "The election results not only end the AKP's dominance in politics since 2002, but also significantly reduce the probability of a change to a presidential system."
While presidents are constitutionally required to uphold political neutrality, Erdogan and the AKP attempted to consolidate their base with appeals to religious conservatives, attacking the opposition as gays, atheists and traitors.
The pro-Kurdish HDP, which won seats for this first time and garnered more than 10 percent of the vote, said it suffered dozens of attacks in the campaign, including a bombing that killed four people, injured more than 100 and forced the cancellation of its final pre-election rally. The AKP condemned the violence and said it wasn't involved.
Opposition Parties
If a coalition proves impossible, the president can call another election. All three opposition parties signaled they don't want to form an alliance with the AKP.
The opposition CHP, which won 25 percent of the vote, focused much of its campaign on the government's handling of the economy. Devlet Bahceli, leader of MHP, which gained 16 percent of the vote, signaled a reluctance to form a coalition with the AKP, saying the best outcome would be an early election if other parties fail to establish a government.
The likeliest outcome is for the AKP to remain in government as a minority administration that probably won't complete a full four-year term, leading to another election within the next 18 months or so, Credit Suisse said.
"The likely economic outlook is one of muddle-through," Berna Bayazitoglu, managing director for emerging-markets economic research in London, said in a report. While the result "has favorable democratic implications for Turkey," it will also "lead to uncertainty for the markets," she wrote.
Prime Minister Ahmet Davutoglu, fighting his first election as party leader after taking over from Erdogan last year, called the result an "epic success."
In a speech to party members in Ankara as the last votes were being counted, he warned against "investing in crisis scenarios" and said "all precautions" will be taken to maintain economic stability.
Read this next:
Before it's here, it's on the Bloomberg Terminal.
LEARN MORE